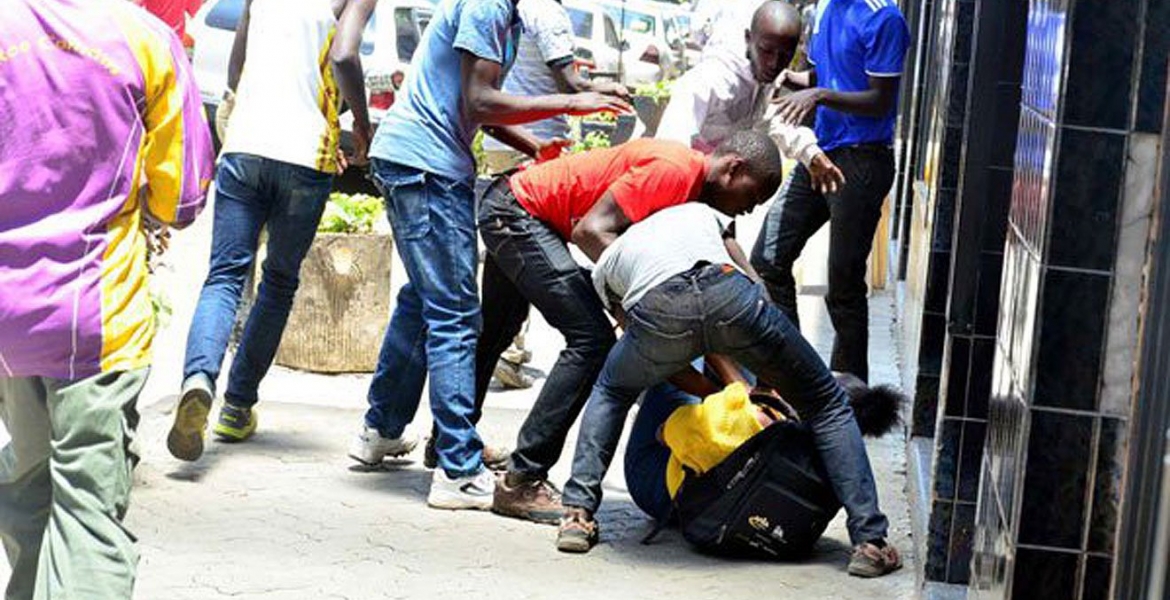 Months after authorities launched a crackdown to flush out muggers from the Nairobi central business district, the criminals have made their way back to the city center.
The Star reports that the street robbers have devised a new way of stealing valuables and cash from unsuspecting passengers, pedestrians and shoppers.
Gerald Okoth, who was recently robbed in the CBD, says many of the criminals are now masquerading as matatu touts, and are armed with daggers and guns.
Okoth says he was accosted by six men along Haile Selassie Avenue after alighting from a matatu.
"They started by asking my destination as they usually do, mentioning - Kisii, Migori, Kilgoris - while another was mentioning Siaya, Homa Bay and Kisumu," Okoth explains.
"One of them grabbed my luggage while the other attempted to take my backpack as we walked towards Machakos Country bus station, but I resisted. I was threatened with a knife and something looking like a pistol. That was when I knew I was being robbed. They took everything," he divulges.
Another victim Violet Mutindi says the criminals ambushed her along Ronald Ngala Street after shopping at Naivas Supermarket.
She says the muggers grabbed her luggage from a trolley puller claiming that she was their customer. They went ahead to pay the trolley puller Sh50 for him to hand over Mutindi's luggage.
Contacted for comment over the resurgence of the criminals, Nairobi security executive Tito Kilonzi has promised to ensure the matter is handled. 
"If you go to our general store you will find that place is full of these people who have contravened the rules on PSV transport management," he notes.
"I'm going to share this with the OCPD (Central Police Station) and the OCS (Kamukunji Police Station), that we have wayward elements in the CBD who are extorting people and we are going to deal with them," Kilonzi adds.
Nairobi Police Commander Philip Ndolo, says: "Nobody can finish everything 100 percent. We will keep on arresting people who will continue committing violations."