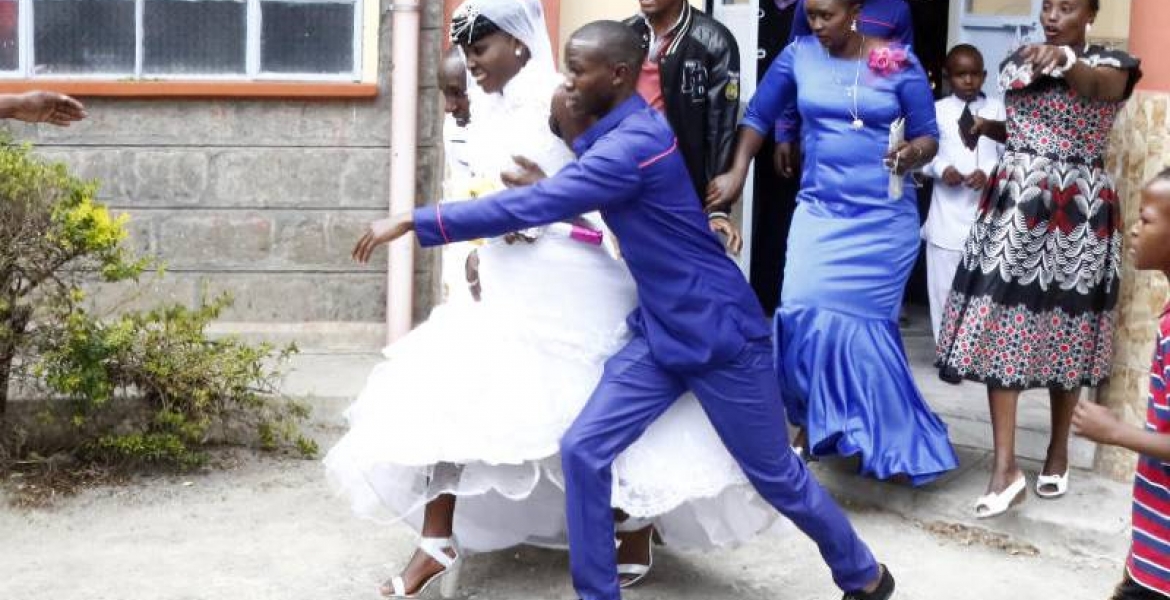 Residents of Pipeline Estate in Nakuru were over the weekend treated to a drama after a six-month pregnant woman stormed a church in the area to stop a wedding ceremony, claiming that the bridegroom was her lover and the father of the child she's carrying.
Dennis Kinyanjui and his partner Agnes Wangari were tying the knot at the ACK Jehovah Shammah Church in Pipeline when Agnes Wanjiru arrived to scuttle the ceremony.
The 21-year-old who was accompanied by her mother Lucy Wanjiku says has been living with Kinyanjui for the past three years, and she is currently six months pregnant with his baby.
Ms. Wanjiru decided to disrupt the wedding after ACK Jehovah Shammah Church bishop, Stephen Kariuki went ahead to officiate the ceremony despite receiving a letter from Wanjiru's lawyer.
"We act for our client [Kamara Agnes Wanjiru]. Our instructions are that both Njenga Dennis Kinyanjui and our client [Wanjiru] had a relationship out of which, our client conceived and is due to deliver in [about] 4 months' time. That notwithstanding, you have gone ahead to organize a wedding with another lady [who is] a member of your congregation," reads a part of the letter sent to Bishop Kariuki by Wamaasa, Masese, and Nyamwange advocates.
"On October 5, 2018, the said Dennis Kinyanjui entered into a prenatal agreement for the unborn baby; a copy whereof is in our possession."
"The said Kinyanjui has listed our client as his spouse with the NHIF. Our client's position is that you suspend any plans of the said wedding until our client delivers her baby and paternity ascertained," read the letter.
During the incident, a trail of destruction was witnessed at the church as Wanjiru's supporters tried to forcefully enter the wedding venue. 
In an agreement signed in October, Kinyanjui committed to supporting Wanjiru's baby should paternity tests prove that he is responsible for her pregnancy.
"I Dennis Kinyanjui have decided to wait for DNA tests to prove if Agnes Wanjiru's unborn child is indeed mine. If the results come out positive, I will pay for the expenses that his or her mother would incur. If the DNA results would turn out negative, then Wanjiru will refund me the resources I would have invested in her. I am the one who will foot the DNA test costs," says Kinyanjui in a letter signed by him.
Kinyanjui and his partner hurriedly exchange vows before quickly exiting the venue in three vehicles.