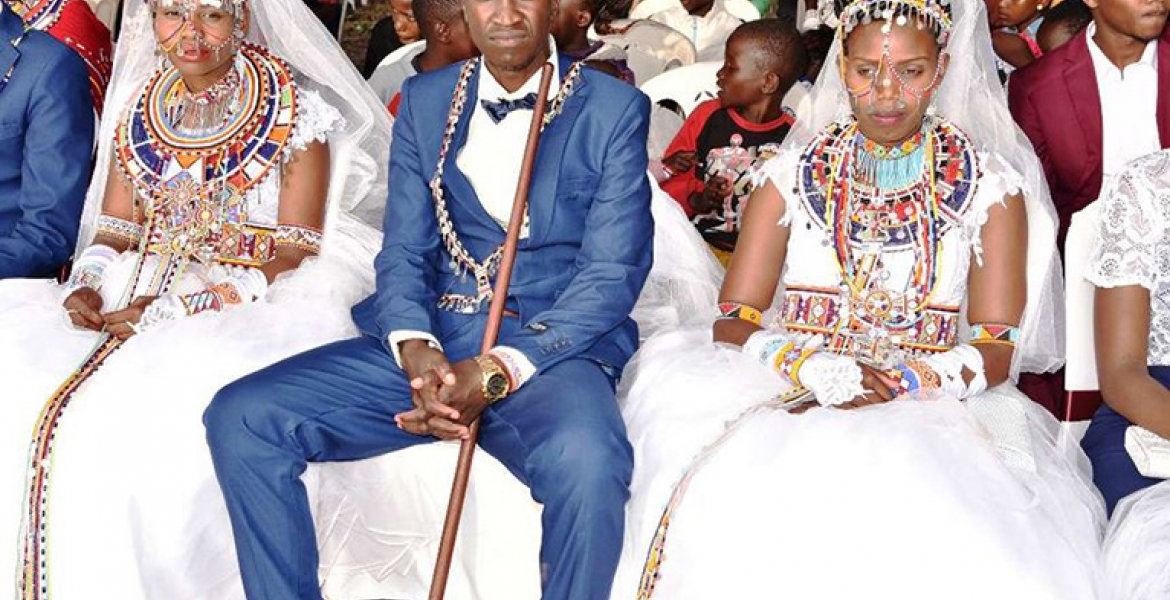 A 27-year-old Kenyan man from Kajiado County has stunned social media users after marrying two women in an ecstatic traditional wedding ceremony held on December 11th.
Tom Junior Mako exchanged vows with his two wives, Elizabeth Simaloi, 25, and Joyce Tikoiyan, 23. He says they have been living together under the same roof in the past one year after which they agreed to solemnize their threesome relationship.
"I lived with both of them under the same roof in my Kajiado home for one year – 2017 – before I was convinced to exchange wedding vows with them. Marriage should not be something that one enters into and regrets later. So, I had to rehearse a mock marriage setting with them so that I get to know exactly how they would behave if I married them. In that one year, I got to find out their excitement, worries, fears, strengths, weaknesses, anger levels and general character. I was, thereafter, convinced that I can live with both of them as my wives," Mako says during an interview with a local news outlet.
He also clarifies that his was a traditional wedding ceremony and not a white wedding as social media reports allege. 
"I want to clear the air. My wedding was customary and had nothing to do with the Church. There are people posting misleading information on social media that my wedding was presided over by pastors," he adds.
He argues that marrying two wives is better than having one wife and other secret lovers out there.
"This is a message I'm sending to modern cheating husbands who pretend to love one woman and yet they have others on the side. I'm being sincere to my wives because I will not have any other reason to marry another woman. I believe the two will satisfy me."
Mako is now considered a hero among the Maasai community since no other man has ever married two wives in one ceremony in the past.
"It took me a lot of convincing to do. I am, however, glad that my efforts paid off," says Mako.
The Vicenarian says he would love to take his two wives on honeymoon but lack of finances means they will not be having one.
"Tough economic times have condemned me and my wives to my residential home in Kajiado. For now, I cannot afford a honeymoon. How I wish a sponsor would come on board," he says.