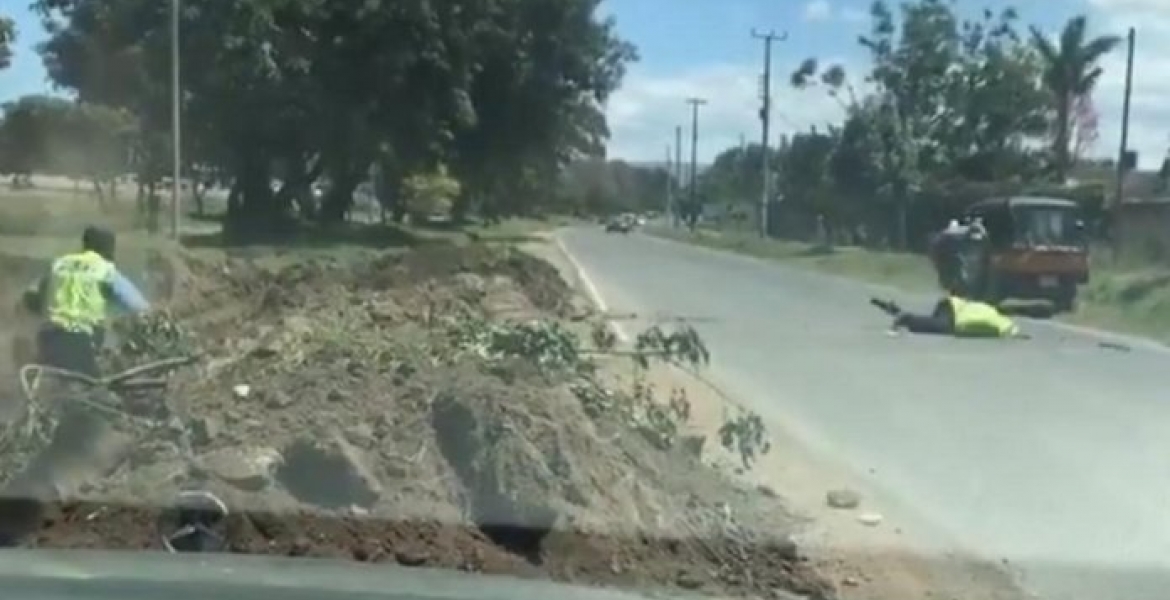 A video of a Tuk Tuk taxi driver stoning two Kenyan traffic police officers manning a roadblock at a yet to be known location has surfaced on social media.
In the 42-second clip, there seems to be a confrontation between the two traffic cops and the driver.
The driver looks to have oover powered one of the officers who is on the ground before getting into his vehicle in an attempt to fled. He then makes a u-turn and tries to hit  the other officer.
After driving away, he makes another about turn towards the officers, alights from the Tuk Tuk and begins hurling stones at them. 
The unarmed officers scamper for safety as other road users watch. The Tuk Tuk bears registration number KTWB 757D. 
Here is what a section of online users have to say about the incident:
✔@RobertAlai notes: "If you know the location and who did this, share. We can't allow anyone beating the police. Must be arrested immediately. Kindly find me names and location."
@wangilainnocent says:" Traffic officers are the second eyesores to Kenyans after mpigs!!!!,,These guys beating them deserves HSC awards."
@Pashptah tweets:" This is the real outcome of Corruption. Kenya has grown and nurtured it and day by day the citizens are getting tired of the vice."
Video: https://youtu.be/sCdx9XeyX4A