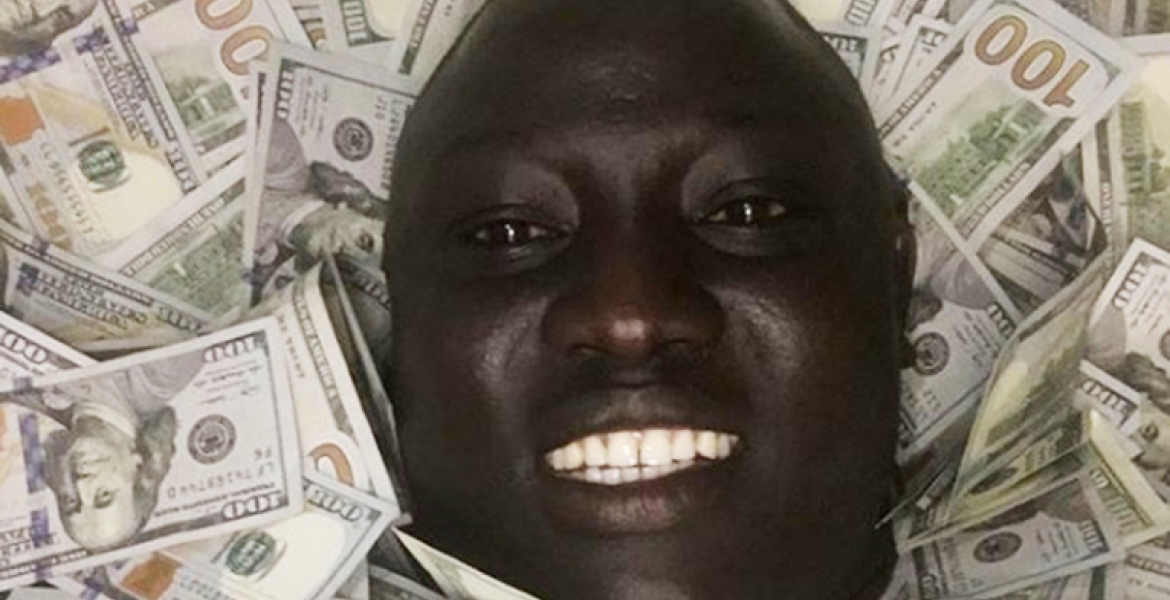 A video of controversial South Sudanese tycoon Lawrence Lual Malong Yor Jnr pledging to bankroll the Kenya Universities Students' Organisation (KUSO) has sparked outrage from Kenyans online.
In the video that has gone viral on social media, Yor, who calls himself Africa's youngest tycoon, says he will fund the organisation's activities. KUSO officials who flanked him to the press briefing are heard cheering, with one of them even saying that "our new chopper is coming."
"I will stand with KUSO, and I will invest in KUSO… I will invest a lot of dollars in KUSO. I love youth, I will support youth, and I'm looking forward to the youth to change this country," says Yor.
Kenyans on Twitter have poured scorn on the student leaders for associating themselves with the 30-year-old controversial billionaire who was unable to explain his source of wealth during a recent interview with Citizen TV.
Yor, who claims his wealth comes from Jesus, was recently videotaped 'swimming' in dollars inside a posh hotel in Nairobi.
"I got my wealth from my Lord Jesus Christ. My Lord Jesus Christ blessed me; I fly on private jets… I live in Presidential suites… I am blessed," the 30-year old told Citizen TV's Jeff Koinange in an interview.
Here are some of reactions from Kenyans about the video:
@MarvinGakunyi says: "This level of nonsense and selfishness among student leaders has gone too far. An insult to being in the university with an assumption of being agents of change. It's not even a week after Malong Yor Jr stated that his wealth comes from God. NONSENSE!!"
@r4kaman tweets: "Gone are the days University student leaders 
the likes of , @MigunaMiguna @orengo_james were fighting for revolution. 
Nowadays it's this bunch of beggers licking the butt Lual Malong Jr's for handouts .Youth in Kenya are Doomed!!"
@johnallannamu notes: " This video says more about those surrounding him than it does about Lual Malong. Money isn't everything man! #TheProfiteers."
@KiigenKoech: "Kenya is part of the reason South Sudan can't get on its feet. We must stop cleansing and protecting #TheProfiteers.@DCI_Kenya I believe you have all the reasons to pay Serena Hotel a visit."
@KiigenKoech adds:" After watching Jeff Koinange interview #TheProfiteers, I'd be very shock if relevant government bodies didn't visit Lawrence Malong at his Presidential Suite at Serena this week. If he can't reveal the source of his wealth, he surely must be deported."
This level of nonsense and selfishness among student leaders has gone too far. An insult to being in the university with an assumption of being agents of change. It's not even a week after Malong Yor Jr stated that his wealth comes from God. NONSENSE!! pic.twitter.com/TcpYaxjKvA

— Marvin Gakunyi, WordSmith ✍️ (@MarvinGakunyi) October 17, 2018