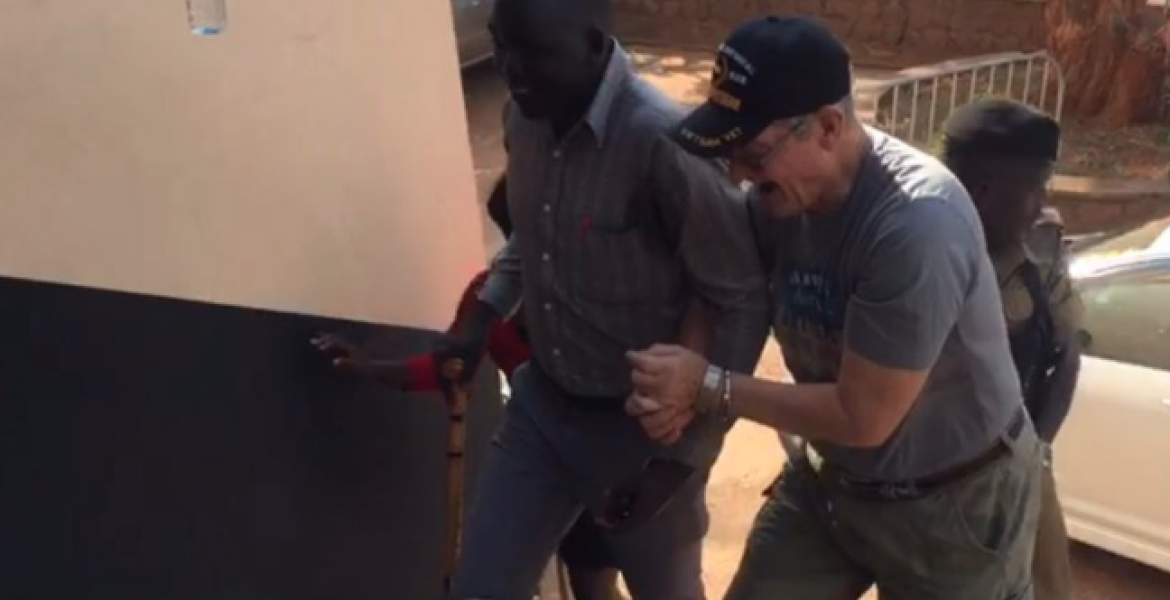 An American pastor videotaped raining blows on a hotel attendant in Uganda accusing him of "disgracing Jesus" has been arrested.
In the 1min 52 seconds clip that went viral on social media in Kenya on Friday, the elderly American pastor was seen breaking hotel property in pursuit of the staff.
Racist American pastor attacks Uganda hotel reception staff - in the name of Jesus! @dailykos @markos @shaunking @SkepticNikki @patrickoyulu pic.twitter.com/NHqhWYEDJ1

— Dave Bik (@davebik) August 18, 2018
"Come here!…You hate Jesus? You hate yourself? You hate me? Huh?" the American asks as he roughs up the man.
The man recording the incident can be heard cheering the pastor. "Francis wacha akupige (Francis let him beat you up)," the man  recording the incident says.
The US preacher goes ahead to slap Francis on the face while yelling "Talk! Talk!" He continues beating the man while using derogatory words but the hotel employee doesn't retaliate.
A man wearing a blue shirt dashes in and tries to intervene but the pastor claims that Francis "has disgraced Jesus."
"I will not tolerate no more….Jesus will not tolerate….f*** Uganda," the American says pointing his middle finger towards the camera person. 
"Brother, you understand me?" he asks the man in blue shirt adding that he has come to love and help Uganda but Ugandans hate God.
"NO! NO! You obey what I say. I don't obey you. Open my f****** room now! You b**** Look at me! Look at Christ who died for you," the pastor tell Francis.
The pastor has since been arrested by Ugandan police and has been identified as Jimmy Taylor. He was taken to Central Police Station in Kampala and will be charged with assault.
"Thank you for your vigilance and sending us a video of an incident that happened at Grand Imperial Hotel. We have arrested the suspect, Jimmy Taylor, an American citizen," Ugandan Police said on Twitter.