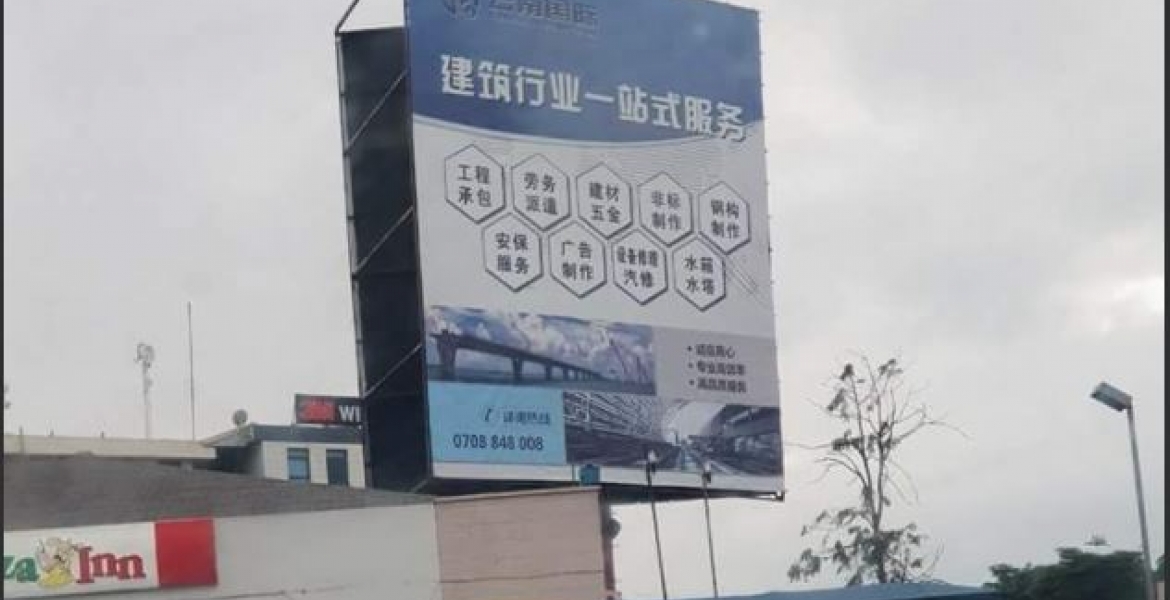 A photo of a Chinese billboard erected in Nairobi has gone viral on social media, sparking fury among the Kenyan online community.
The billboard, which is written purely in Chinese, has left Kenyans questioning why it was not translated into English or Kiswahili; the country's official languages.
It only indicates a Kenyan mobile phone number at the bottom. The signage was reportedly vandalised on Tuesday after causing uproar among Nairobi residents.
Renee Ngamau, a radio-show host who was among the first people to post a picture of the billboard on her Twitter page said: "The official languages in Kenya are English and Kiswahili! Period! And we have 42 other local languages. Foreign language poster Directed solely at foreigners to the exclusion of locals??!! Seriously??!!! #PullItDown and all others like it anywhere in public spaces."
"A billboard is a public announcement aimed at the majority of the general population in a given area. Thus, you will find HIV billboards in local languages in the places the specific language speakers are the majority. This billboard fails in its basic functionality. #PullItDown." she added.
Motorists Association of Kenya also criticised the advertisement in a tweet, wondering who was the intended audience. Kenyans on social media asked Nairobi Governor Mike Sonko to explain how the poster was approved by his administration.
"@MikeSonko do you mind translating to Nairobians what this Chinese billboards are saying? Or is it a congratulatory message for the handshake between President @UKenyatta and @RailaOdinga ?" Justus Walobwa posed.
However, Robert Njogu, an online user didn't see anything wrong with the advertisement, "I am sorry to say this a case of the racism/xenophobic card you are playing here," he said in response to Renee's tweet.
Gakii Gituma said: "A client is free to use whichever mode of advertising as well as the language depending on their target audience. So YES , their audience understands the language on the billboard hence their objective is achieved. You're unfamiliar with the language, you ain't their audience."
Joy Doreen Biira, a communications advisor at the Ministry of Mining noted: "Globalization I suppose has come with its ups and downs. With it we are expected to go with the flow of accommodating other languages no matter how foreign in the hope there are those who can read it (in this case Mandarin)."