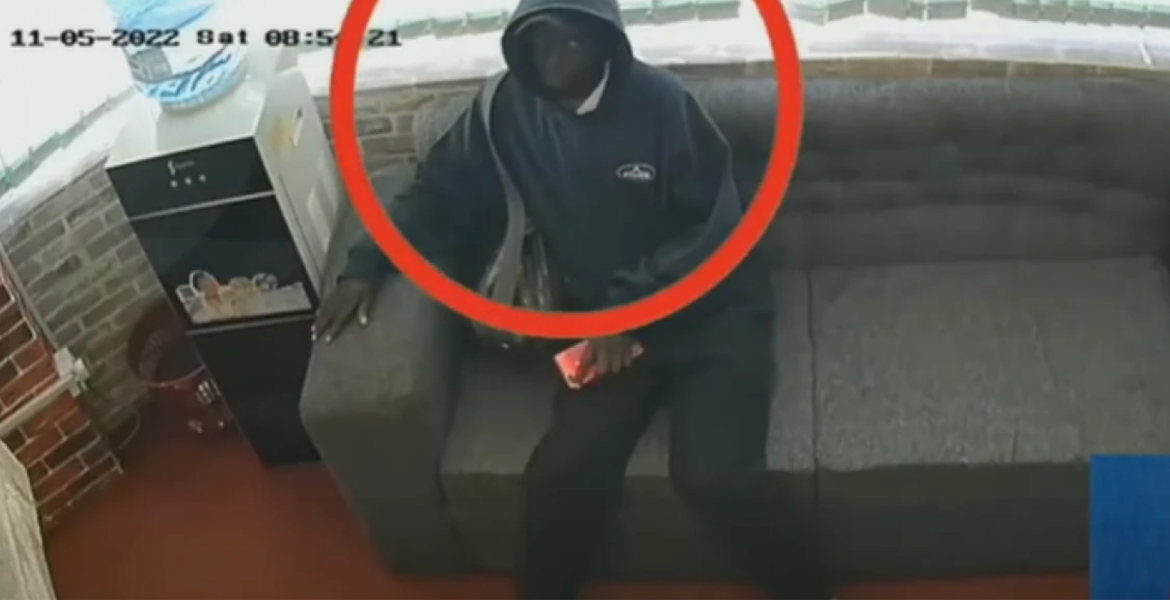 Detectives in Nakuru are in pursuit of a Kisii University student in connection with the robbery of Sh1.7 million from an MPesa shop in the city.
The student is one of the two suspects caught on surveillance camera assaulting a mobile money agent before taking off with the cash.
CCTV footage shows the prime suspect, donning a black jumper and a red cap, going to the shop and the attendant opens the door for him.
The prime suspect, a relative to the owner of the mobile money shop and who is said to be a frequent visitor, then sits in the waiting lounge and appears to be nervous as he looks around and spots the CCTV cameras.
A customer walks in and out of the shop and the suspect is captured locking the door of the shop before requesting the MPesa attendant for the Wi-Fi password.
Shortly after, he opens the door for his accomplice who is donning a grey jumper and red cap. The accomplice walks straight towards the counter, close to the attendant.
At 8:56 a.m., one of the CCTV cameras captures the accomplice drawing a gun from his bag before ordering the employee to lie on the floor.
The prime suspect then gets a duct tape from his sling bag and ties the victim's feet, hands, and mouth before rushing to the counter section where he stacks all the money in a bag.
His accomplice dashes to a separate room in the shop in what the owner suspects was a failed attempt to take off with the memory card to the CCTV cameras. The two engaged the attendant for about seven minutes before they left the shop, leaving the victim duct-taped.
The owner of the mobile money shop reported the incident to Central Police Station, saying he lost Sh1.7 million.
The mastermind, a Kisii University student, is a close relative of the owner of the shop and is yet to be arrested. Police tracked his phone, which revealed his location as Isibania on the Kenya-Tanzania border.