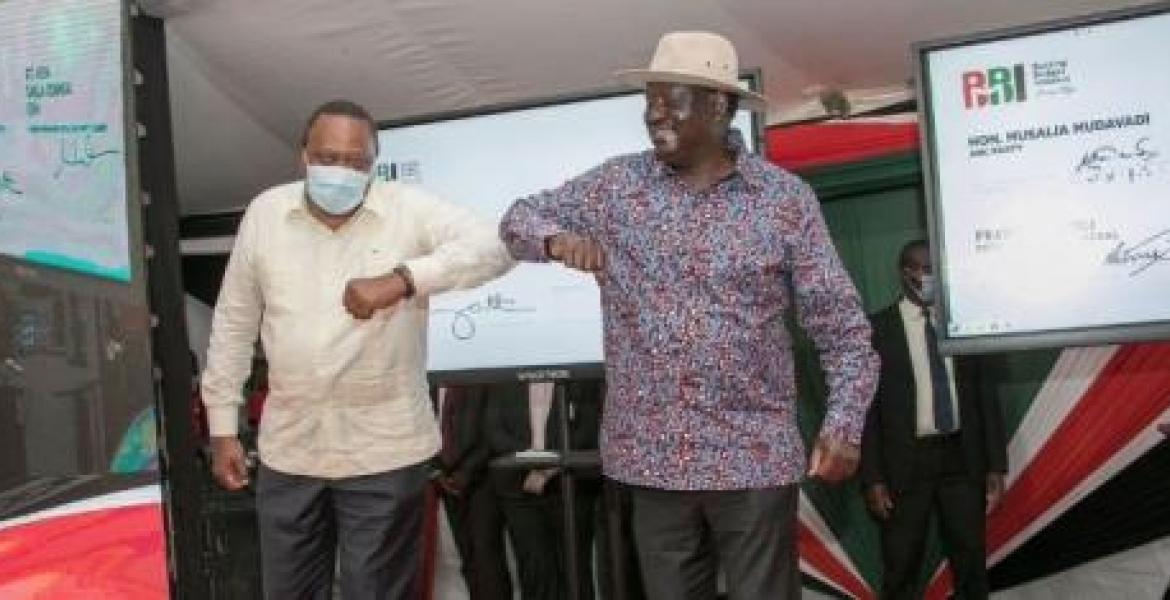 President Kenyatta and ODM leader Raila Odinga have formally launched the collection of signatures for the Building Bridges Initiative (BBI).
The exercise was launched during an event held at Kenyatta International Convention Centre (KICC) in Nairobi on Wednesday, marking the journey towards amending the 2010 Constitution.
"The nation is a product of continuous evolution; it is a product made, constantly, and purposively. The tree of the nation is watered with a constant stream of ideas.   Without this, the nation will wither and die.  The only thing that is static and does not change is that which is DEAD," Kenyatta said during the launch.
He added: "We need to strengthen the 2010 constitution, we are not talking about replacing but amending the constitution, the first of many amendments that will come over a period of time." 
Kenyatta explained that the proposed amendments are aimed at addressing the challenges that have bedeviled the country for many years chief among them inclusivity and equitable distribution of resources. 
"Because of the peace that has prevailed since the handshake, many Kenyans have forgotten what was happening at the time.  We were on the verge of divisiveness that would have deeply undermined our continued unity and peace.  There were even those reckless few who threatened the destruction of the nation; and actually, got a hearing from sections of the public that felt only drastic action could ease their frustrations.  So many countries, some that we share borders with, have trodden a similar path to destruction and ruin," he observed.
He called on Kenyans to rally behind the process for a "prosperous and united Kenya for generations to come."
On his part, Odinga said Kenya has opened a new chapter that will culminate in a national referendum.
BBI Secretariat's joint secretaries Junet Mohamed and Dennis Waweru said the exercise will take a week before the signatures are presented to IEBC for verification. Kenyans can append their signatures online on www.bbisignatures.org.
"This will cater for those who will not be able to sign physically, you just need to log and sign and submit your details," Junet said.