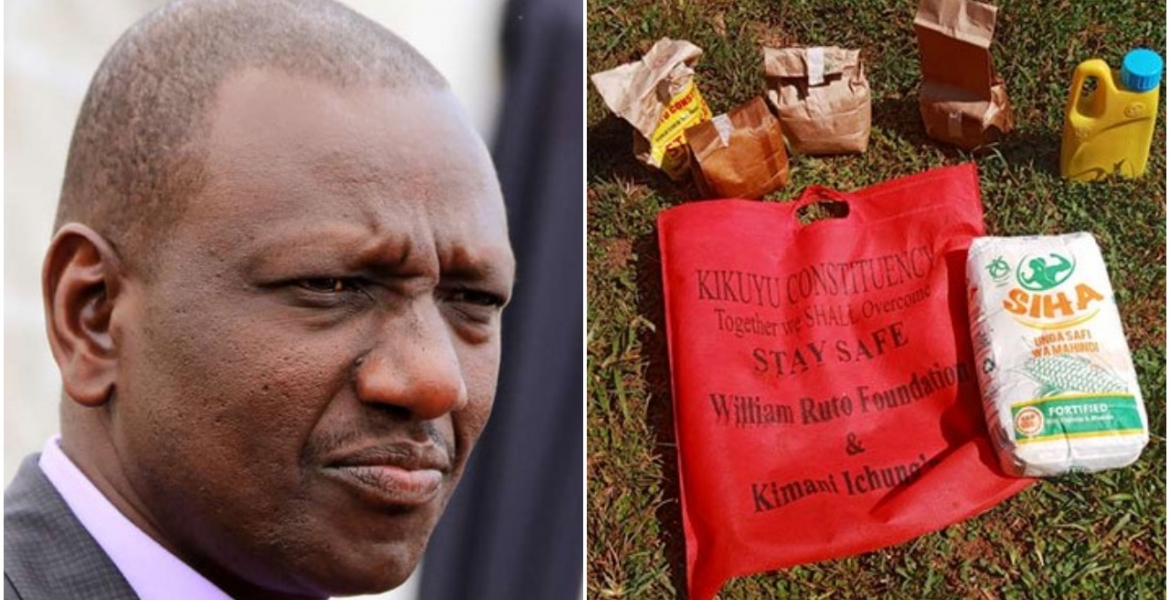 Deputy President William Ruto on Monday denied being behind the distribution of poisonous relief food to residents of Kikuyu Constituency in Kiambu County.
Several residents who received and consumed the food items packaged in bags labeled William Ruto Foundation and Kimani Ichung'wah are said to have developed stomach complications while others were hospitalized.
But in a statement through his Communications Secretary David Mugonyi, DP Ruto distanced himself and his foundation from the contaminated food and blamed it on "political thuggery." He stated that food relief from his foundation is only distributed through churches and mosques.
"Reports from locals indicate that the strange food donations in question were hurriedly thrown from moving vehicles to the unsuspecting public with fake branding, that is not from the Foundation," the statement noted.
"The William Ruto Foundation has been donating food in Nairobi and its environs for months now without any incident. It is clear those behind the distribution of the contaminated food are engaging in political thuggery for other reasons."
Ruto further accused his political detractors of playing with the health and lives of innocent Kenyans to gain political mileage.
"We sympathize with those who have been affected and pray for their speedy and full recovery. We shall follow up with the local leadership to assist them with medical care as is appropriate in consultation with Health officials." 
"It is revolting, despicable, callous, and cruel to play with the health and lives of innocent human beings to score political points. Human life and dignity are higher than any political agenda."
"Those behind this incident are irresponsible, barbaric savages who have no place in civilized society," the statement added.