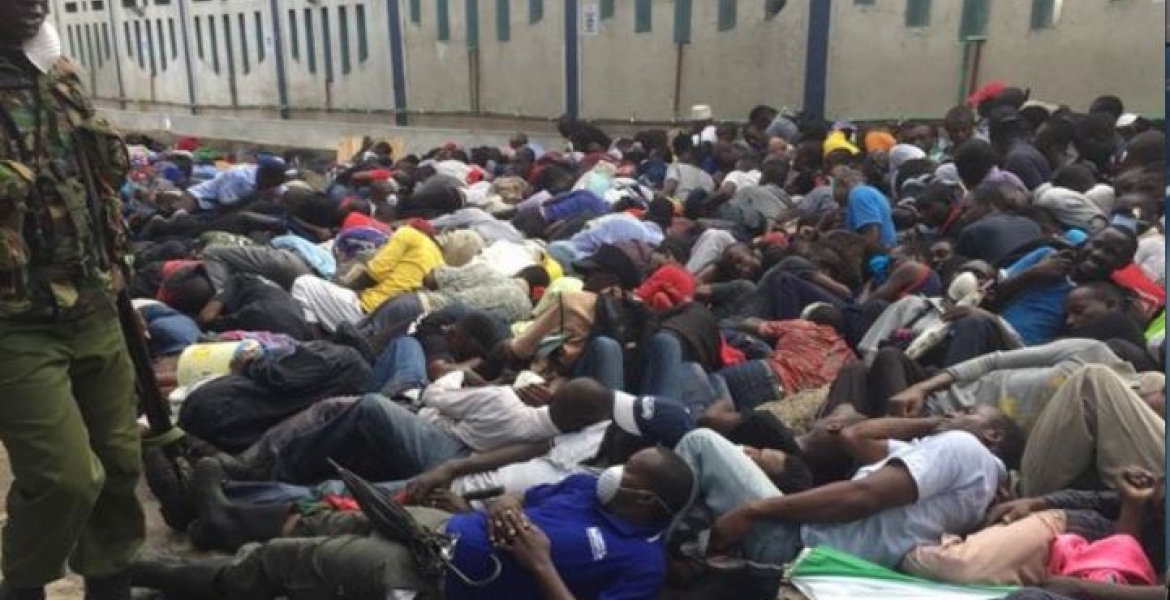 Police are on the spot over brutality and excessive force unleashed on Kenyans on day one of the dusk-to-dawn curfew declared by President Uhuru on Wednesday.
The 10-hour daily restriction running between 7 pm and 5 am took effect on Friday and is part of the government's measures to combat the spread of coronavirus.
While a majority of Kenyans went home early to beat the 7 pm cutoff, many others found themselves in trouble with police after they were found outside beyond 7 pm.
Photos and videos of police clobbering members of the public who failed to arrive home before 7 pm have emerged, sparking uproar among Kenyans on social media.
Chaos at the Likoni channel as GSU officers descend on ferry commuters, an hour before curfew. pic.twitter.com/7QnfAUF4GQ

— NTV Kenya (@ntvkenya) March 27, 2020
D.j. Vowxs Kenya said: "I am seriously pissed off!!!! This is very wrong in all ways!!!!! Police brutality is a violation of human rights!!!! Mtu mwenye anafaa kukuchunga ndiye anakupiga!!! And we are supposed to trust these people!!"
Philipina Mwaisaka wrote: "This is very inhuman. They should just arrest and charge them. Why are they so brutal to harmless people? Shame!"
Peter Ngunzu's noted: "The police should be informed that Kenya is not under coup, war or any violence...we are all fighting a deadly diseases, the order was arrest charge…not beat...no wonder the qualifications."
George Mwany said: "This all what D minus waste materials can do to fellow citizens, so the curfew was not to prevent spread of Corona but to harass Kenyans, they have revealed the biggest level of illiteracy, I wonder how Kenyans tax r used to train such heartless beasts."
Anthony Okumu stated: "Kenya police should be reserved for elites not these demagogues with nothing in their brain account. They have no ability to reason. The work of the police is to keep law and order."
Patrick Kabugi said: "This is barbaric. As much as I support the curfew whipping up people is unacceptable. The President should also force employers to close their businesses at 4.30 pm, so that people can get time to commute to their respective homes. Imagine being released from work at 7 and finding all matatus home. Surely how Will you be home by the time the curfew starts?"
Mc Opolo Opere noted: "As much as we are supposed to follow the law the police should stop taking advantage of the situation but thinking simply because they have the guns and Barton's they can beat up everybody we are human beings and the police should not dare push Kenyans by saying serikali ni yao we are a peaceful people so the police should not dare provoke us
Steven Kim said: "Kenya!! Kenya!! Kenya!! A country where police officers do what they think is right rather than doing what is constitutionally right, this is unacceptable,barbaric, insane, crazy, unethical, and to say the least disturbing!! For safety keep away from police, keep away from Corona!"