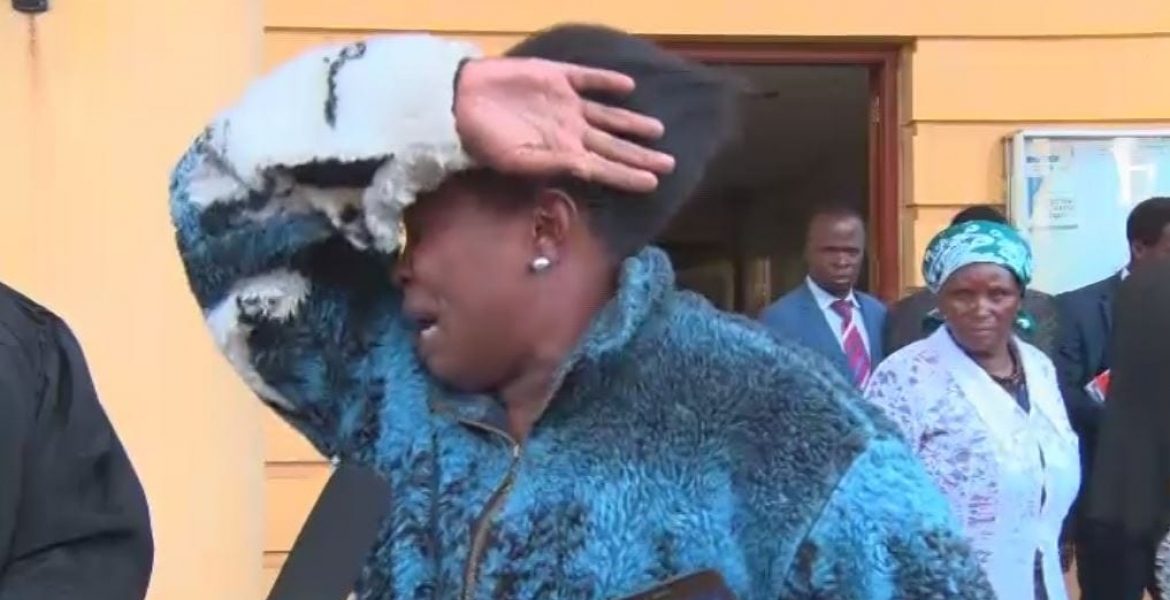 NYS scandal suspect Phyllis Njeri Ngirita has narrated her family's agony after they were charged over the National Youth Service (NYS) scandal. Addressing reporters outside Milimani Law Courts on Monday, an emotional Njeri lamented over the freezing of the family's bank accounts and assets.
She claimed that her Class Seven son, who was previously fluent in German, has dropped out of school due to lack of fees and can only speak Kikuyu, Swahili, and English at the moment, adding that the boy was turning into a 'chokora'.
"Miaka mbili tumeteseka. Mtoto aliacha shule, anaelekea kuwa chokora… Wamekataa kabisa kufungua hiyo account. So mtoto ata hawezi ongea Kijerumani, anaongea Kikuyu na Kiswahili ama Kizungu," said Njeri as she broke into tears.
She also said the family has been forced to use public service vehicles after their cars were seized and are now rusting away at Naivasha Police Station.
"Sai nitatoka hapa na huyu mtoto twende nyumbani na matatu… gari yangu inaozea police station na nilinunua na malipo ya pole pole," she added.
Njeri also questioned why the government was unfairly treating her family while other suspects in the NYS scandal are walking free.
"Hii ni maisha gani tunapitia… Ukienda Naivasha Police Station, gari zetu zimeekwa hapo kama decoration. Wame exaggerate wanasema ati nyumba zote Naivasha ni zetu. Wanasema tuliiba Ksh.9 billion. Iko wapi hiyo pesa?" 
"I want the President to know that we are being persecuted. My family has been through a lot. I used to work and all my money is stuck at NYS….I'd rather die or been thrown in jail than go through this," she said as she wept uncontrollably.
Four members of the Ngirita family; Ann Ngirita, Phylis Njeri Ngirita, Lucy Wambui Ngirita, and Jeremiah Gichina Ngirita were in 2018 charged over the Sh9 billion NYS scandal. The four are said to have received over Sh400 million from NYS without suppling any goods or services to the youth agency.
Last year, Njeri moved to court seeking to be allowed to access money in her account to pay her son's school fees arrears amounting to Sh3.4 million.