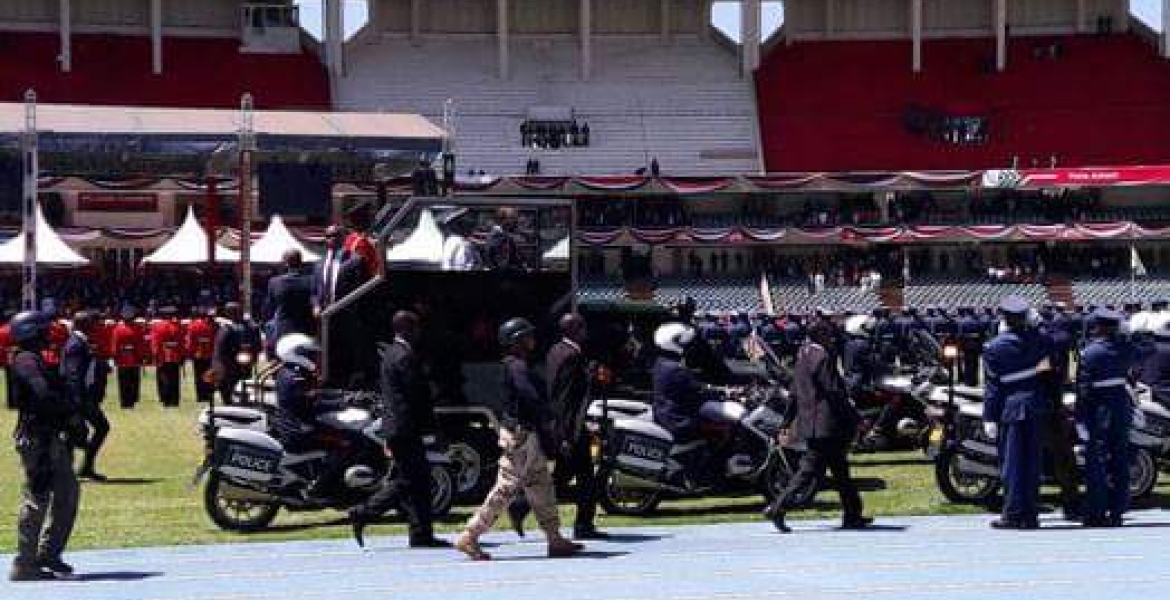 Unlike the huge number of Kenyans that turned out for President Kenyatta's inauguration ceremony on November 28th, Tuesday's Jamhuri Day celebrations at the same venue was marred by very low attendance.
By 10am on the day of President Uhuru's swearing in ceremony, gates at the Kenya's biggest stadium had been closed as the 60,000-seater ground had filled beyond its capacity. There was even a stampede at the gate as Kenyans attempted to forcefully make their way in to witness the historic moment.
However, on Tuesday, things were totally different. Very few people were seated at the stadium by the time the head of state arrived to preside over the 54th Madaraka Day fete. As usual, Kenyans on Twitter made their own interpretations on why the important function was 'boycotted' by Kenyans under #EmptyKasarani hash tag.
Here is a few reactions we sampled from Twitter;
@ Pal_Jeff said: "Kasarani is as empty as the polling stations were on the 26th October referendum # EmptyKasarani."
@ Disembe alleged: "As late as 10.am people were still being bribed to get to the stadium...there was a group of people paying Ksh200 outside #EmptyKasarani stadium."
@ Paperboyrocks notes:" I thought my TV has an echo problem. Kumbe it's the
#EmptyKasarani stadium echo.."
@ CSolis10 said: "There's no Ksh 500 to hire crowds this time uh? #EmptyKasarani."
ODM director of communications @ EtalePhilip said: "They transported people to Kasarani two weeks ago to lie to the WORLD... today they have been left with an egg on the face #EmptyKasarani."
@ 2030Kevo says: "#EmptyKasarani Uhuru r u still serious that this country we are together? I kno deep in ur heart u feel this Kenyans want Raila."
@ sgoriaro48 said : "That crowd at Kasarani Stadium could fit at Ruto's Sugoi home or Uhuru's Gatundu. Next time please don't misuse public property. #EmptyKasarani."