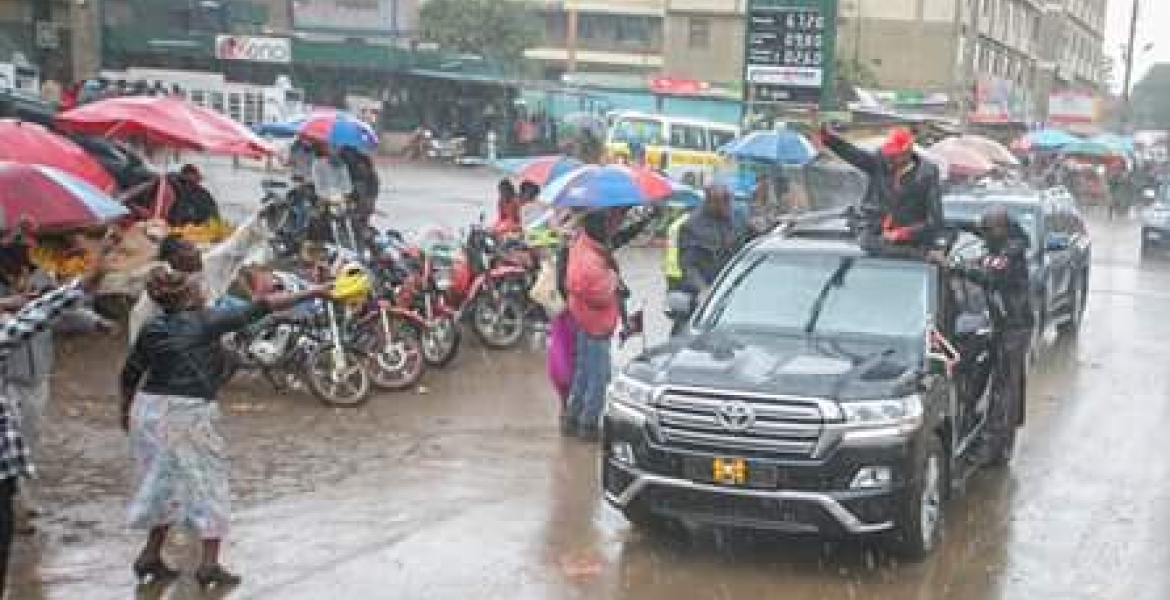 Kenyans on social media have expressed mixed reactions after President Uhuru Kenyatta was pictured campaigning in the rain in
Nyandarua County on Sunday.
The President and his Jubilee brigade were met by heavy downpour while on a campaign tour to Nyahururu town, but the President was undeterred by the rains.
He proceeded to coming out of his vehicle to wave to the residents who stood on the roadside to cheer him.
The photo was widely shared by online users, and, when some lauded the head of state for being 'humble' others dismissed it as a mere PR gimmick.
Bob Erastus said: " He is Pretending that he cares."
Ndegwa Samueli notes: "We Kenyans know this and for sure Uhuru is far much better than Raila Odinga.he is humble and has a true heart for kenya.ata Kama nitakuwa Bondo on 26th Oct come rain come sunshine I shall vote for you my president."
Karani Jane:" He is a committed leader who wants nothing else but peace an development in our country."
Cira Wa Kiore said:"He was rained on? what !Thats a chosen one! So God anointed him that everyone could see?.Even THE BLIND MISE OF NASA!,".
Peter Makori Pema notes: "Desperation."
Renson Mbae says: " Not even rain can stop him from saying hi to the people bcoz he just values them n for sure we need leaders who recognizes that common mwananchi at the grass root. The message here is that the president is saying he is not any different or special,".
Josiah Matinde said: "Mara nyuki mara mvua mara paa imeanguka Uhuru is going no where with dictatorship."
Ben Man notes: "Sign of desperation."
Evelyne Atieno: " That's desperation.if he won fairly he should relax and wait for the next election."
Gasper Namusende said: "Atanyeshewa hadi gatundu, hakuna huruma, #noreformsnoelection."
Gakuta James said: "Awesome. What is more interesting to me in the photo is that huge crowd of thousands in the background that also withstood the rain. See even the old mama on the top right that is waving the Jubilee flag without a care about the rain. Clearly we have the numbers."