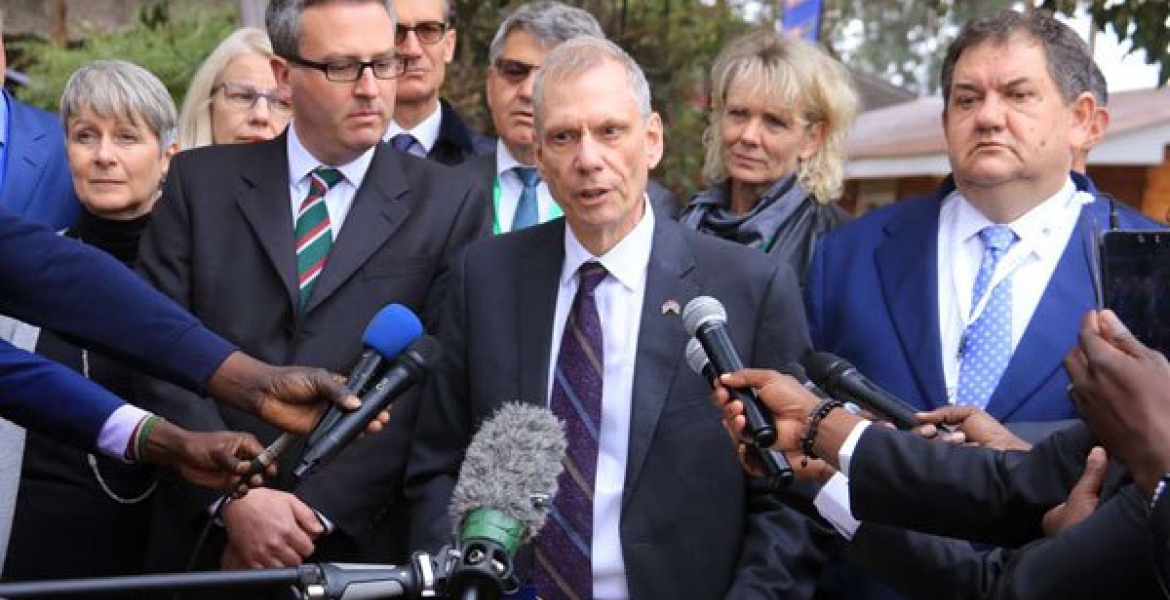 United States Ambassador to Kenya Robert Godec has asked ruling Jubilee Party to shelve the proposed amendments on electoral laws.
Speaking on behalf of foreign diplomats following a meeting with the Independent Electoral and Boundaries Commission (IEBC) at Bomas of Kenya on Monday, Godec said that the move by Jubilee would be against international rules.
"The timing of the laws is a serious problem that requires careful reflection. Avoid changes to electoral rules prior to the elections," US Ambassador Robert Godec said.
"All should give IEBC the space it needs. So, do not paralyze the IEBC for it is the only institution that has to run the elections," he said.
The envoys urged stakeholders to engage the electoral commission in dialogue instead of fighting it.
"We urge all parties to engage the IEBC in dialogue...the commission should make reasonable deliberations and offer free and fair elections," he said.
They urged the government and IEBC to allow the media to cover the election freely in order to increase transparency.
"Freedom of the media should also be protected. Unfounded and baseless attacks must stop since they undermine the law," he said.
"The international community is watching Kenya in every step of its electoral process," Godec said.
The Bills, sponsored by Baringo North MP William Cheptumo were tabled in Parliament last week, with both Senate and National Assembly forming a committee to collect public opinion on the changes.
Opposition MPs stormed out of Parliament when the bill was tabled, accusing Jubilee of changing the rules of the game at half time.
Nasa has vowed to oppose the passing of the proposed changes, saying they would take Kenya back to the dark days.