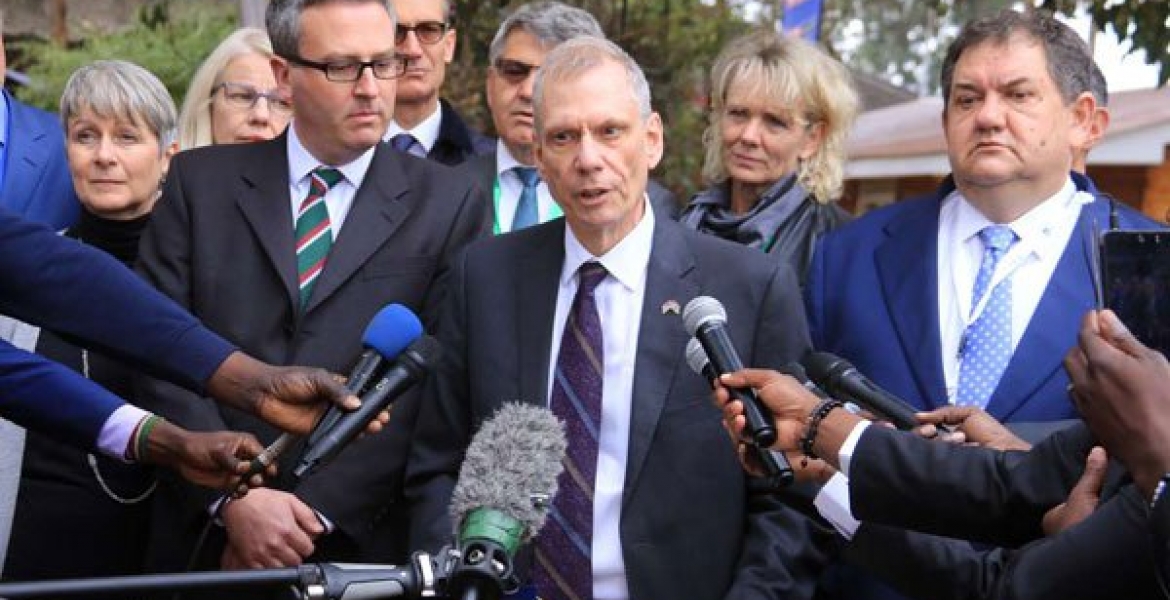 Foreign diplomats have threatened to slap travel restrictions on Kenyan politician attempting to derail the October 26th repeat presidential elections.
The Nation said that the threat to issue to travel ban is part of the concerted efforts by the envoys to have the two parties engage in dialogue and iron out the issues surrounding the repeat poll.
US ambassador to Kenya Robert Godec and the British Deputy High Commissioner Susie Kitchens, have warned that the country could capsize to constitutional crisis should the poll fail to happen.
The envoys are also said to be pushing the two faction to drop some hard stance on the election on grounds that some demands cannot be met as they are time barred.
While opposition is demanding the removal of a section of IEBC officials from office and the cancellation of tenders awarded to Dubai-based printer Al-Ghurair and French technology company Safran Morpho, Jubilee, on the other hand, had proposed a number of amendments to electoral laws to among others, cut the powers of IEBC chairman.
Nasa has organised nationwide anti-IEBC demos to force the electoral officials out of office and to get IEBC give in to their irreducible minimums before the fresh poll is conducted.
However, State House dismissed the protests as a waste of time, because parliament is working on the electoral reforms as a result of nullification og August election by the Supreme Court.
"They can sing, they can march, they can walk, but they cannot throw stones, they cannot beat up people, they cannot lynch anyone," said spokesman Manoah Esipisu on Sunday.
He continued; "There is a group of people in this country who think that whenever there is a national issue that needs to be sorted, it must be removed from Parliament."