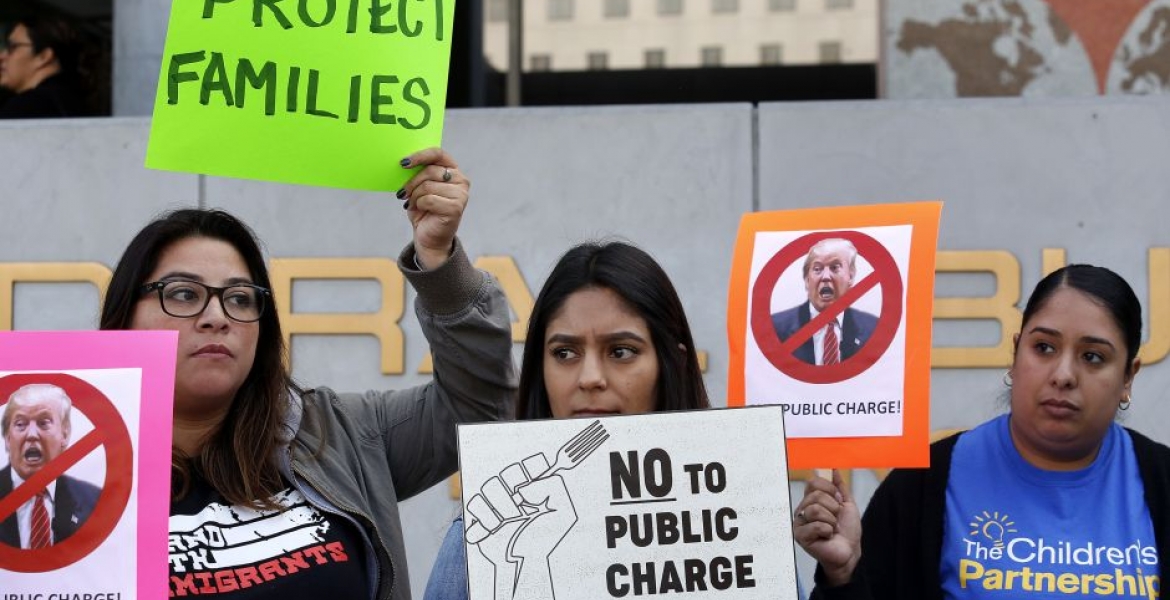 The US Department of Homeland Security (DHS) on Monday implemented the public charge rule nationwide.
Under the public charge rule, United States Citizenship and Immigration Services (USCIS) will consider whether an applicant for a visa or green card has used public benefits for more than 12 months in the last 36 months or is likely to use public benefits in the future. If the applicant is deemed to have used public benefits or is likely to do so, he or she could be denied a visa or green card and if living in the US, could be deemed admissible and be at risk of deportation.
The rule defined public benefits "to include any cash benefits for income maintenance, Supplemental Security Income, Temporary Assistance to Needy Families, Supplemental Nutrition Assistance Program, most forms of Medicaid and certain housing programs."
Immigrants applying to extend their nonimmigrant stay or adjust their status to legal permanent residents will need to declare if they have received any public benefits. DHS says immigrants to DO NOT need to report on any benefits they have received before February 24, 2020. Only benefits received from February 24, 2020 need be reported.
The following classes of immigrants are exempt from the rule:
Refugees
Asylees
Afghans and Iraqis with special immigrant visas
Certain nonimmigrant trafficking and crime victims;
Individuals applying under the Violence Against Women Act; 
Special immigrant juveniles; and
Those to whom DHS has granted a waiver of public charge inadmissibility. 
Medicaid benefits received for the following reasons will also not be a disqualified based on the rule:
For the treatment of an "emergency medical condition;"  
As services or benefits provided in connection with the Individuals with Disabilities Education Act; 
As school-based services or benefits provided to individuals who are at or below the oldest age eligible for secondary education as determined under State or local law; 
By aliens under the age of 21; and  
By pregnant women and by women within the 60-day period beginning on the last day of the pregnancy.  
The Trump administration unveiled the rule last year in what the administration said was to ease the burden on US taxpayers and to make sure immigrants being admitted to the country are self-reliant.
"President Trump continues to deliver on his promise to the American people to enforce our nation's immigration laws. After several judicial victories, DHS will finally begin implementing the Inadmissibility on Public Charge Grounds final rule," said Ken Cuccinelli, the acting deputy secretary of the Department of Homeland Security.
"This rule enforces longstanding law requiring aliens to be self-sufficient, reaffirming the American ideals of hard work, perseverance and determination. It also offers clarity and expectations to aliens considering a life in the United States and will help protect our public benefit programs," added  Cuccinelli.
Immigration advocates have called the rule a "wealth test" and say it discriminates against immigrants from poor regions of the world. They had filed several cases had been filed in federal courts, blocking the policy from taking effect last year. The Trump administration appealed a lower federal court ruling that prevented the rule from being implemented, and on Friday the US Supreme Court ruled 5-4 in favor of the rule going into effect nationwide on Monday.