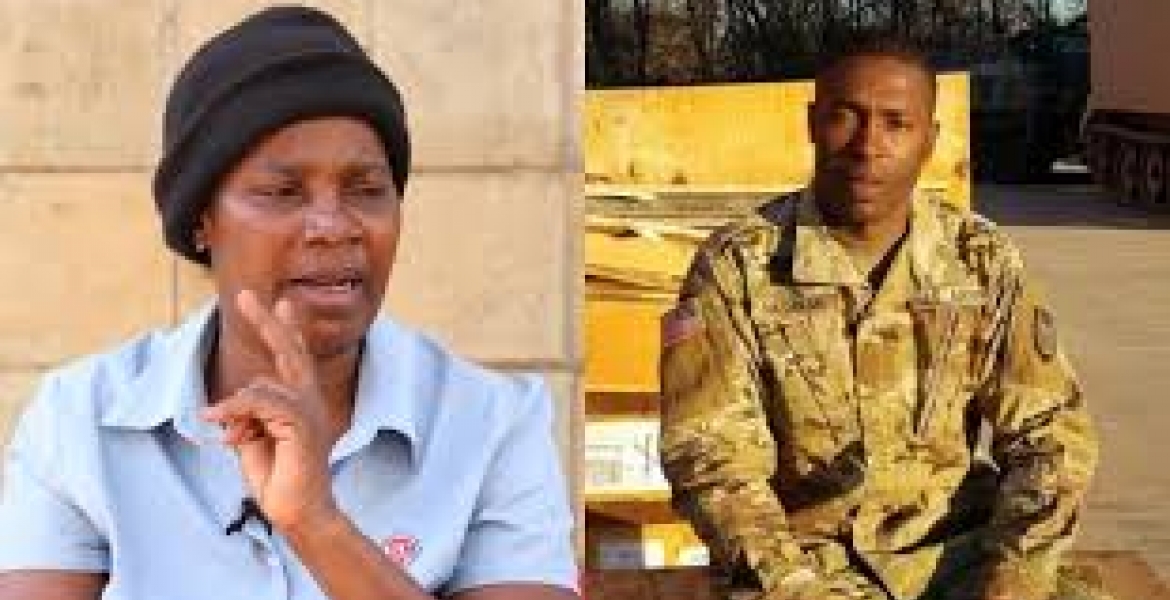 A woman claiming to be the mother of Chris Atema Masakah, a Kenyan-born United States Marine who died after drowning in a swimming pool in Arizona on July 26th, has accused Ikolomani MP Bernard Shinali of failing to involve her in burial arrangements.
The 35-year-old is reported to have lost his life after drowning in a swimming pool while on holiday with his family in Arizona.
Atema, who was serving in the US Marine Corps, was reportedly trying to save a teenage girl of Canadian descent, who was drowning in the swimming pool.
Speaking to The Standard, 52-year-old Petronila Munyasa, who claims to be Atema's mother, said MP Shinali did not inform her about the death of their son and only learned about if from relatives and media.
"I sent him (Shinali) a text message and told him to give me information regarding this issue because I am his mother, but since then he has not responded. I am in the dark and unaware of any arrangements," she told The Standard.
Ms. Munyasa said she met MP Shinali in Kakamega County in 1981 when she was in Class Seven while the politician was in Form Two. The two dated for a while before they separated after Ms. Munyasa got pregnant with Shinali's son-Atema.
She said she dropped out of school to raise her son after Shinali's family rejected them saying the MP was too young to sire a child.
 "I could not proceed to secondary school. My family was very disappointed with me but I am thankful they helped me raise Masakah. His paternal family did not even participate in the circumcision rite which is a prerogative for any male child born within the Luhya community," she said.
After Atema sat for his KCPE exam, Munyasa said she was unable to raise fees for his admission to high school, forcing her to seek help from MP Shinali's sister, who together with the MP paid for the boy's secondary school and college fees.
"...he went to live with his father who took care of his education to university level," she said.
"On Saturday, July 27, my sister informed me that Shinali had circulated the message among his close friends. He wanted them to convene a meeting over the issue. This really shocked me. I think by virtue of being Masakah's mother who raised him through hardship, I should have been among the first people to be informed of his death," Munyasa added. 
Munyasa, who sells vegetables at Kangemi market in Nairobi, said she chipped in after Atema was kicked out of Shinali's home after he completed his degree at the University of Nairobi.
"I gave him KSh 10,000 as capital for the business. Every month, I could send him KSh 2,000 to carter for rent in a small house he had rented in Rongai," she explained.
In 2014, Atema moved to the US with the help of his relatives. "He was conferred US citizenship in 2017, went for military training and later graduated as US Marine. This was very good news to me. It gave me high hopes in him," she said.
She further said her son had bought her a smartphone and used to communicate with him through video calls. He even visited her in Kangemi in December 2018 and bought her a parcel of land in Kakamega before returning to the US in January this year.
"I had so much hope in him. He had promised to come and help me settle at my rural away from the hustles of the city. News of his death shattered my dreams. I don't know why he had to go shortly after starting to enjoy fruits of his handwork," said Munyasa.
She wants MP Shinali to involve her in burial preparations in her capacity as Atema's mother and also be considered in case the US government makes any form of compensation.
When contacted for a comment, MP Shinali said: "This is a difficult time for me. I am mourning my son. It does not make sense for someone to claim that I have prevented him or her to mourn. I have not received any communication from Munyasa and all I expect her to do is to join us during this trying time. I am made to believe that people who are privy that I will be running for governorship have sponsored this course as a strategic plot to malign my name."
The body of Atema, who left behind an expectant wife and two children, is expected to arrive in the country on Wednesday.