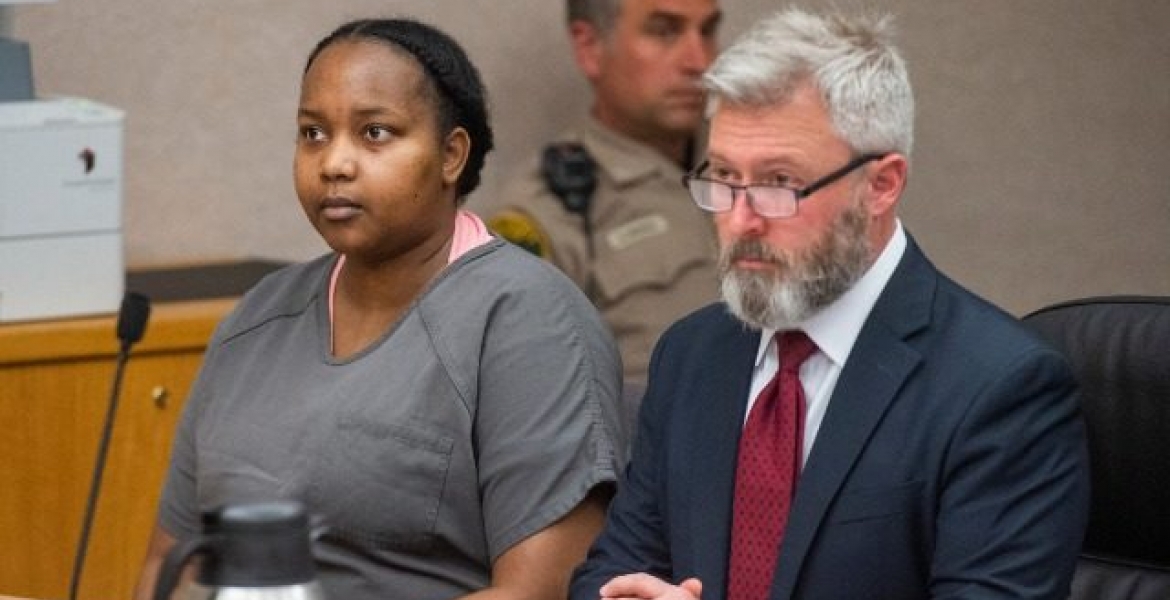 Win Gikonyo with her attorney Michael Stewart at the Pierce County Superior Court. [Photo/ Drew Perine, The News Tribune]
A Kenyan woman charged with vehicular homicide in Tacoma, Washington has pleaded not guilty by reason of insanity.
26-year-old Win Gikonyo  was driving her new Hyundai Elantra near 84th St and McKinney Ave on April 18, 2018 at a speed of more than 100 miles per hour. As she tried to pass two cars, she hit a car being driven by 60-year-old Marianne Burton, who was delivering pizza. Burton died at the scene.
Blood tests conducted on Gikonyo at the time indicated she was not under the influence of drugs or alcohol at the time of the crash. Instead, her lawyer says Gikonyo was suffering from hallucinations and was hearing voices shouting commands in her ear.
"She was hearing voices shouting commands in her ear.. She felt that she could communicate with the traffic lights," defense Attorney Michael Stewart told the Pierce County Superior Court on Tuesday, adding that as such, sh was not legally responsible for her actions at the time of the accident. A report by a psychologist at Western State Hospital earlier this month diagnosed Gikonyo with "unspecified schizophrenia spectrum or other psychotic disorder," and she is said said to be taking medication for her diagnosis.
Meanwhile, Burton's children say Gikonyo stole her mother from them, and question her claims of insanity. Amber Falaschi, Burton's daughter, told the court that Gikonyo did "things that insane people don't generally do," such s holding a job and buying a car. "She stole my mother's life from everyone who knew her," Falaschi added.
Buton's son James Burton said his mother was less than two years away from retirement when she died.
The judge noted that Gikonyo has prior hospitalizations for mental health treatment but that for some reason she had stopped taking medication at the time of the accident. He ordered her held without bail pending a hearing to discuss possible mental treatment options going forward.