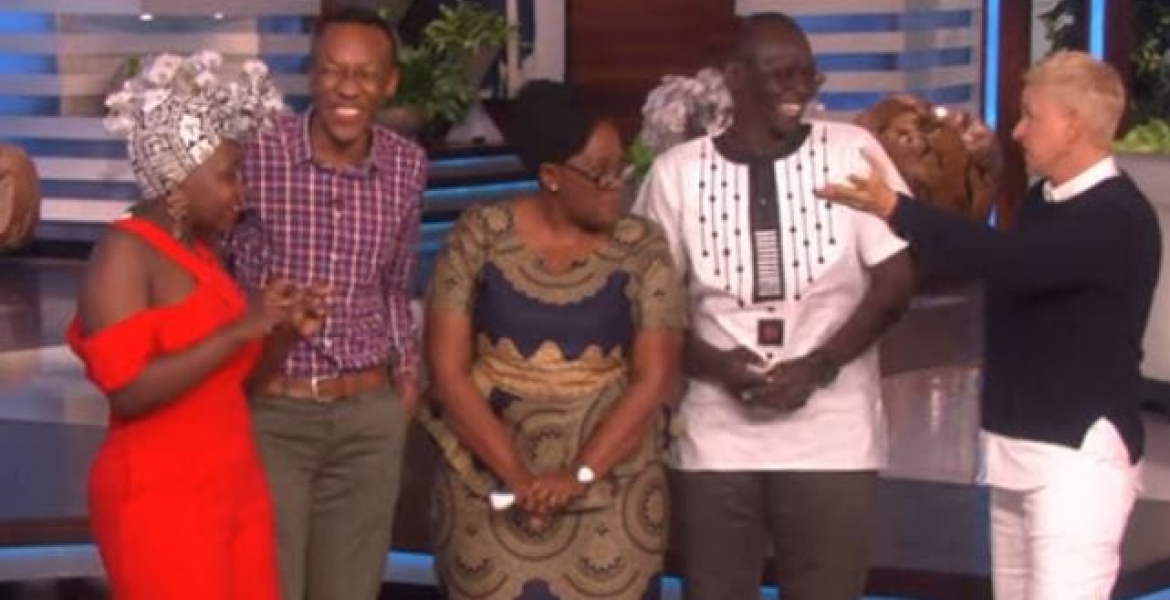 Kenyans online have accused a US-based Kenyan woman Achieng Agutu of telling lies when she appeared on a popular TV show, The Ellen Show, hosted by American comedian Ellen Degeneres.
Her claims that she learned to write and speak good English by watching The Ellen Show when she was young caught the attention of Kenyans, who think she lied.
Achieng was speaking when Degeneres reunited her with her family, after allegedly living apart for two years.
Agutu said she was brought up in Kisumu County, where she developed an interest in watching The Ellen Show.
"My name is Achieng Agutu. I am from Kisumu, Kenya," she says in a video posted to YouTube.
"People told me that the best way to learn a language is through watching music [videos] or listening to music. And, so, when I use to watch artists on your show, I used to take down notes on the songs that they wrote and then I would go to a cybercafe and look up the lyrics, and, therefore, learn English," she adds.
"I moved to the USA five years ago. I came here for higher education. It has been amazing, but hard for my family back in Kenya because they have honestly done every single thing that they can do, including selling land to taking loans, borrowing money to be able to pay school fees and ensure that I am comfortable."
"I work one full-time job as an admissions counselor at Holy Cross College from 9 am to 5 pm. I also babysit for two families, I wash people's cars, I clean their houses, I am an Uber driver and then I also teach English to international students," she notes.
"My parents really want to give back to the community because they feel like they are really blessed. They are helping 10-plus kids from our family and the village that they live in – they pay their school fees."
Kenyans online also claim she lied about the last time she met her family as her social media activity shows she was with her kin during her graduation in the US in May last year.
Her Instagram posts also paint a picture of a globetrotter who has traveled to popular destinations such as Doha in Qatar, Machu Picchu in Peru, Bali in Thailand, Tulum in Mexico and Yves Saint Laurent's Private Residence in Marrakech, Morocco.
Agutu and her family won $50,000 (Sh5,000,000) on the Degeneres' show.
Here are some reactions from Kenyans online.
Wairimu ngugi @TheFabpreneur says: "Such an unnecessary lie RT @Catewakamaru: @TheEllenShow @TheEllenShow Just so you know, Achieng met her parents as late as May 2018, a year ago. Her parents flew to Indiana for her graduation." 
@juliuskitevu tweets:"Achieng Agutu would have just said she perfected her English by watching @TheEllenShow Twitter DCI wouldn't be digging her background check."
@ochieng_adul says:"Achieng's story didn't add up. Your parents can't be struggling to educate you to the extent of selling parcels and at the same time support others in the village. Village schools and cybers don't teach that accent. Kiraitu studied law at Harvard and never picked that accent."