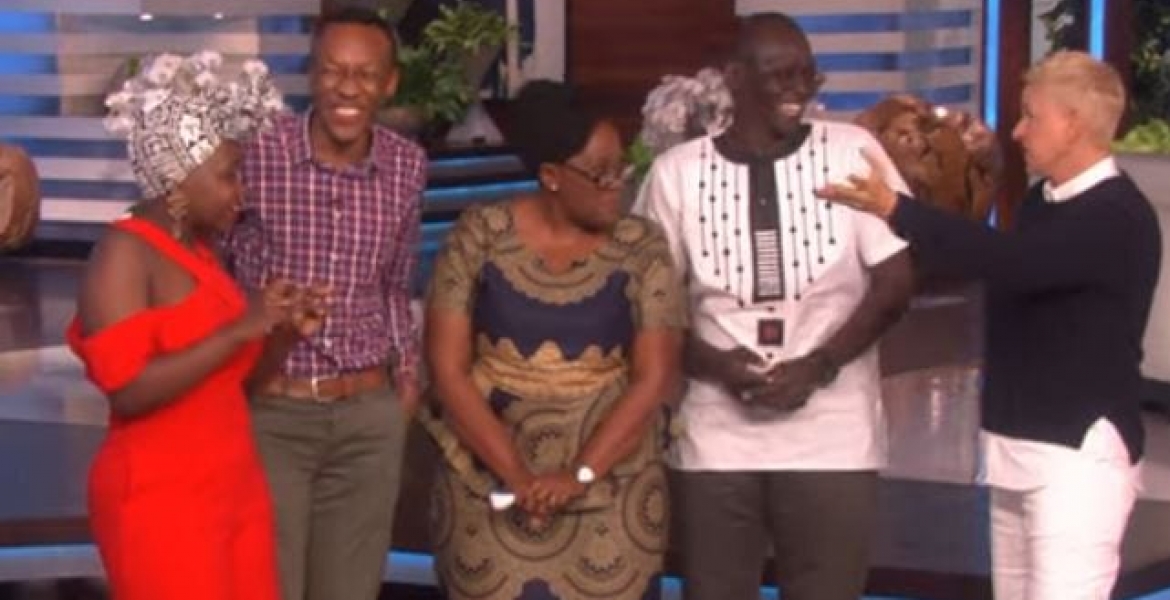 A Kenyan family has won $50,000 (Sh5 million) cash prize on American comedian Ellen Degeneres' The Ellen Show.
This comes after Degeneres reunited a Kenyan woman in the US with her family after two years of living apart and not seeing each other.
In a video uploaded to YouTube, Achieng Agutu, a Kenyan-born woman studying in the US is seen dancing on set before the beginning of Denegeres' show.
The comedian then invites her on stage where she reveals how she learned the English language by watching The Ellen Show as a young girl.
"I moved here (to the US) about five years ago for higher education and it's been amazing but it's also been really hard for my family back in Kenya because they've honestly done every single thing from selling land to taking loans to be able to pay my school fees and make sure that I'm comfortable," notes Achieng.
"I work one full-time job, I'm an admissions counselor at Holy Cross College, but then I babysit for two families; I wash people's cars and clean their houses; I'm an Uber driver; I also teach English to international students."
Ellen then pretends to link Achieng with her parents, who are supposedly in Kenya, and her brother in South Africa through a video call before the signal is lost.
She then pretends to head towards the video control room to fix the signal, but surprisingly, Achieng's brother and parents emerge when the door opens.
Later, the excited family is asked to play a game where they are required to select one card from a group of three labeled 1,2 and 3 with different figures written at the back.
The four pick the card labeled 2 which comes bearing the highest amount of cash out of the three; a staggering $50,000.