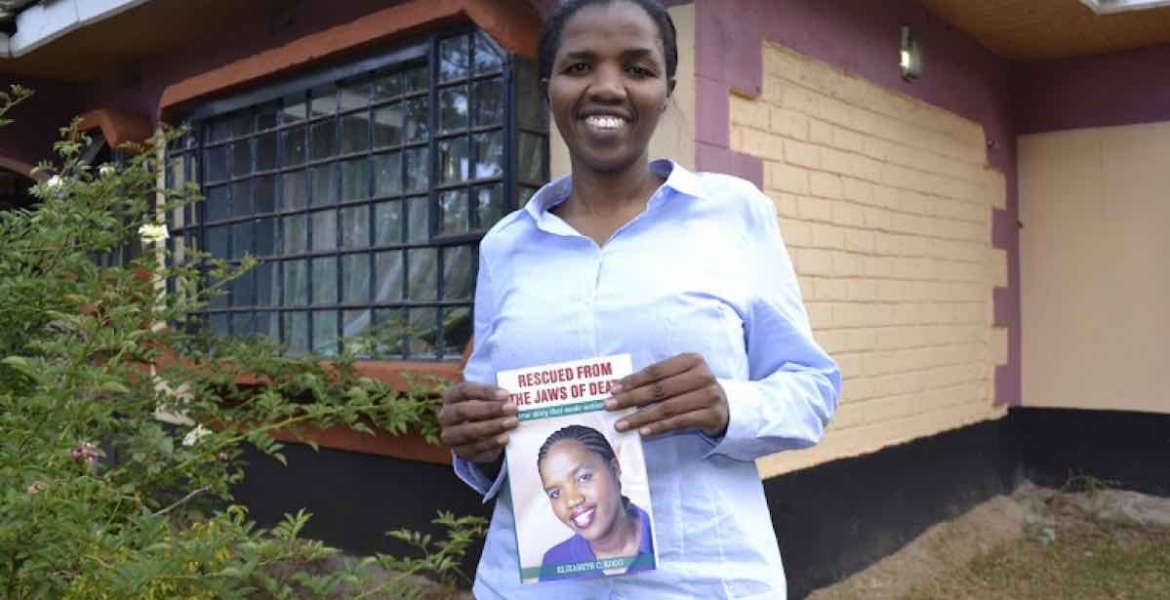 A Kenyan diaspora returnee has narrated how she survived a hammer attack by her former boyfriend in the US on her birthday nine years ago.
In an exclusive interview with The Star, 37-year-old Elizabeth Kogo from Nandi County has opened up on how her jealous lover, Gideon Maiyo, almost killed her after hitting her several times in the head using a hammer.
The two were living together in Wichita, Kansas before the incident happened nine months after Ms. Kogo moved to the US on a green card.
"We lived as a couple in the apartment, and we showed determination to formalize our relationship by his parents going to our home for negotiation," Kogo explains.
Kogo, who worked at a facility housing people with various physical and mental problems, worked harder and began earning more money, something that unsettled Maiyo.
"I could meet all our family's needs, including paying rent and school fees for my son, who was in daycare. This threatened and intimidated him," Kogo says.
She says her fiancé would later turn violent and would beat her over flimsy issues.
He was also pressuring her to quit her job and seek employment elsewhere on grounds that she was working in a place where there were many Kenyan men.
Tired of the man's mistreatment, Kogo began plans to ditch him by first sending their son back to Kenya. However, Maiyo learned of her intentions and embarked on a plan to kill her.
January 23rd was her 29th birthday and so her workmates organized a party for her oblivious of her strained relationship with Maiyo. After the party, she arrived home at night only to find her lover holding a gun, ready to kill her. Attempts to beg him to spare her fell on deaf ears as the man was determined to kill her.
"I was sweating and trembling, pleading with him to spare my life as I remembered my son Florian and my six siblings and mother, who were looking up to me for support. But he could not listen. When he pulled the trigger, the gun jammed… God had jammed it," Kogo recalls.
Maiyo reached for a hammer he had purchased to repair some furniture in the house and smashed her with it eight times in the head before it got lodged inside her skull. 
A neighbor who heard her cry for help called the police who responded in time to save her life. 
After the attack, Maiyo attempted to flee but was arrested after crashing his vehicle in the car chase with police.
The officers found her lying in a pool of blood with brain matter oozing from her head. She was rushed to hospital where medics did all they could to save her life.  She underwent a successful operation to remove the hammer but she remained in a coma for a month.
At one point, doctors asked Kogo's mother to travel to the US and sign papers allowing them to put off her daughter's life support machine and let her rest peacefully.
Her mother declined to sign the forms and chose to stay by her side and pray.
"My mum was sure if she stood beside me and made a prayer for divine healing, miracles could happen and we would walk," Kogo recounts. 
Her status improved but had to undergo physical, occupational and psychological therapy to recover her speech, ability to walk and general body coordination.
Maiyo was sentenced to 15 years in prison, with the judge ordering that he be deported back to Kenya as soon as he completes his term.
Kogo has since returned to Kenya and is now a champion against gender-based violence.
Ms. Kogo has written a book titled 'Rescued from the Jaws of Death.'