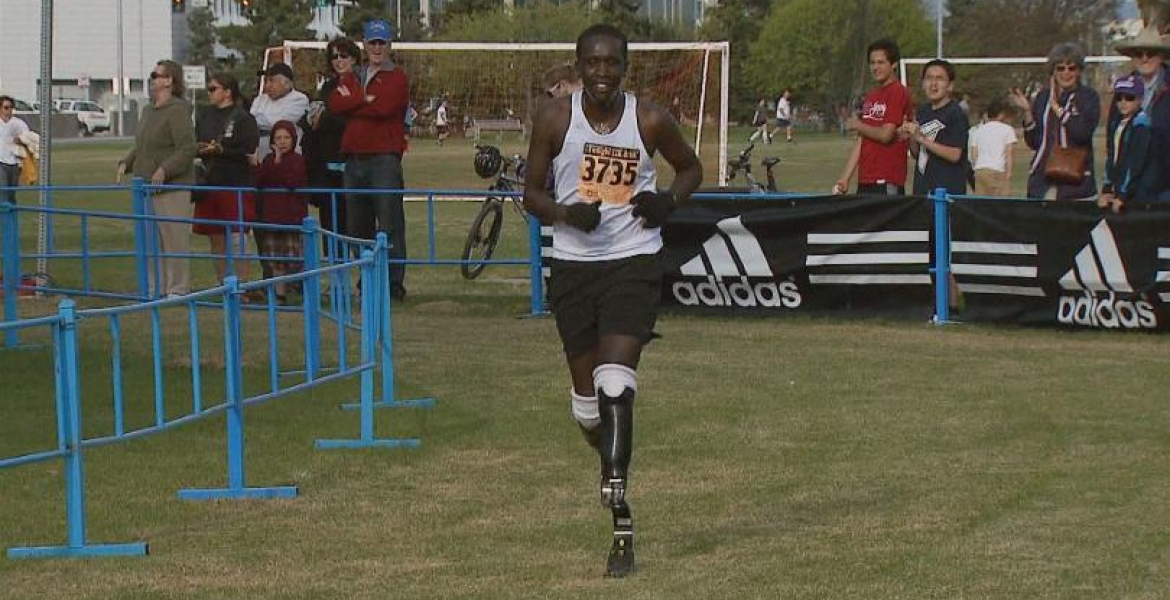 Kenyan-born Marko Cheseto, a double amputee below the knees, broke the race record for a leg amputee at the Boston Marathon on Monday.
Cheseto, a former University of Alaska Anchorage runner, finished the 26.2 miles race with a time of 2 hours, 42 minutes, 24 seconds, breaking the previous amputee record of 2:42:52 set by Richard Whitehead in 2010.
He also shaved 10 minutes off his previous personal best. 
"It [the record] gives me a little bit of pressure. There's always that pressure to do better. This doesn't make things easier or change things," he told Runner's World. 
"I have to go back and talk to my coach and see how I can improve my time."
Cheseto moved to the US in 2008 on an athletic scholarship to run for the University of Alaska Anchorage.
Cheseto lost his legs to Frostbite in 2011 after he went out on a Sunday evening run clad near Alaska University without a hat or gloves. He woke up to falling snow in the woods around 55 hours later. 
The athlete survived the freezing elements, but doctors were forced to amputate both of his feet.
Cheseto remained in Anchorage after losing his legs and later graduated with a degree in nutrition.
18 months after he was amputated, he was fitted with a pair of distance-running blades.
He tried them out with a 100-meter sprint and the outcome was positive. His dream of running again was revived.
"I thought, 'You know, I think I still have a lot in the tank,'" he says.
"One thing I just told myself was the condition that I have is just a phenomenon that happened in my life," Cheseto said on Marathon Monday. "It does not define who I am. I still have my inner power."
Cheseto had hoped to represent Kenya in the 2016 Paralympic Games in Rio in the 200-meter event but this did not happen as the Kenyan government withdrew the team's funding before their scheduled trip to run the qualifying rounds.
In December 2017, he began thinking about participating in a marathon.
He decided to move with his wife and three children from Anchorage to Orlando in 2018 to train for the distance.
"I thought it would take a lot of time, but my muscle memory picked it up right away," he says.
His first marathon attempt was in New York last November, where he finished with a 2:52:33. The race was just a few days before he would officially become a US citizen.