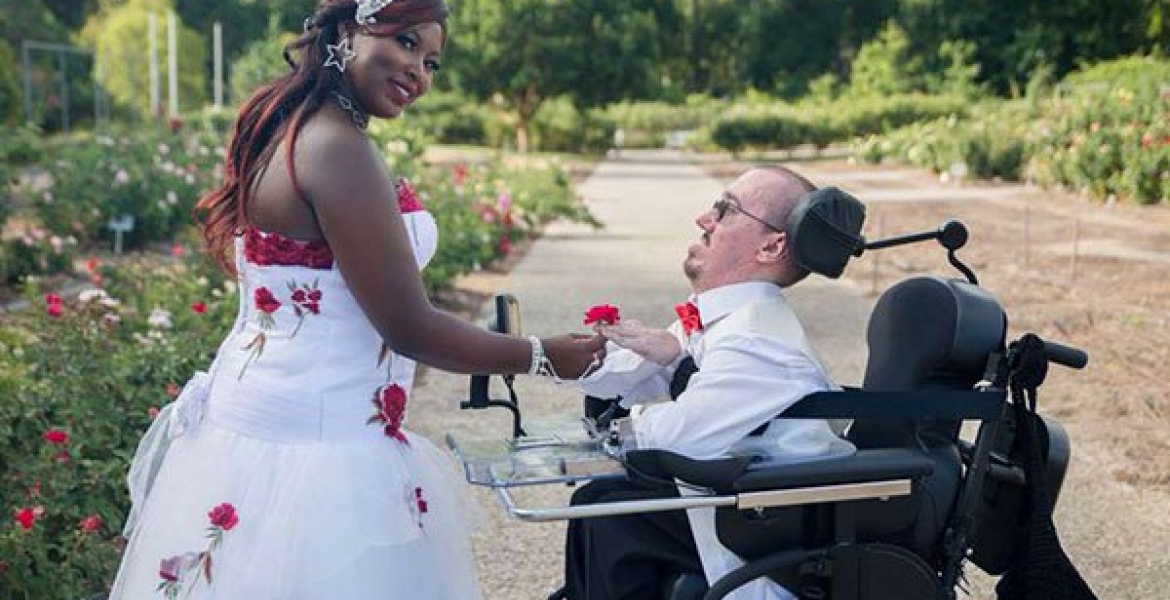 They say that love has no boundaries and this Kenyan-born woman has made this saying relevant by marrying a disabled Australian man.
In January last year, Susan Njogu from Elburgon, Nakuru County exchanged vows with 30-year-old Phillip Eling in a red-themed garden wedding ceremony held in Adelaide, Australia.
Ms. Njogu fell in love with Eling, who was born with muscular dystrophy, a disease that causes progressive weakness and loss of muscle mass. The condition has confined Eling in a wheelchair since he was five years old.
The two met in January 2017 after Susan joined the company that Eling was working for.
Susan got a job in the company after attaining a diploma in working with disabled, having moved to Aussie in 2015.
"Ours is a story of love at first sight. Nothing about him bothered me, especially because I had related with many disabled people while studying," Susan says. 
After joining the company, the two exchanged contacts and their relationship quickly turned romantic.
"He invited me out for coffee, and you can imagine my surprise when I found his mother sitting with him. She was also part of our meeting. I was a bit nervous at first, but it turned out great," she recalls as quoted by the Daily Nation.
Six months later, the two got engaged and decided to take their relationship to the next level.
"We both knew what we wanted, so there was no doubt about that. We wanted to spend the rest of our lives together," Susan says.
Eling says he finally got Susan parents' approval to marry their daughter.
"She understood that I had to convince them (Susan's parents), especially since Africans are usually not as open-minded. I only wanted their approval, above anything else," Philip offers.
"They gave me their blessings at once. They were completely alright with our decision, and especially because they knew how passionate I was about helping the disabled. I was ecstatic," Susan adds.
Phillip currently works as an area coordinator with the National Disability Insurance Scheme.
Susan says she has had to live with negative comments from people but she says hers is pure love for Eling.
"People said I only did it because I wanted to get money from him, but I sort of expected that reaction from them. I was very relaxed and prepared for it. I got comfort from knowing that our union was ordained by God," Susan notes.
"I have had the most memorable moments of my life. God has always been on our side. Just as we have plans and goals together, we also have ups and downs like any other couple. But the most important thing is that we always lift each other up."
"Phillip takes care of me like any other husband would, and I take care of him too. People always assume that I am the one who takes care of him."
The couple plans to start an organization in Kenya to help people living with disability.
 "We are still working on building ourselves, especially our skills, because we would want to move back to Kenya and run an organization that helps the disabled," Susan says.