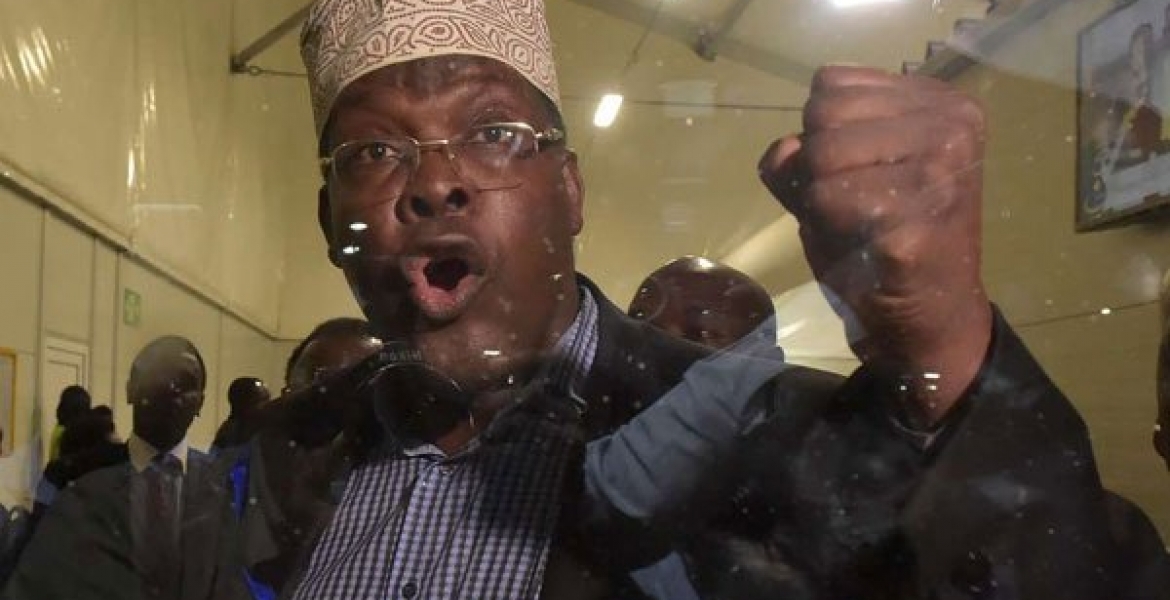 Fiery lawyer Miguna Miguna has hit back at Opposition leader Raila Odinga over his Friday remarks in London.
Addressing Kenyans in the United Kingdom at the Greenwood Lecture Theatres of King's College, London on Friday, Raila said Miguna was to blame for his own trouble with the State, which saw him kicked out of the country in March.
Odinga further noted that Miguna refused to cooperate with the Immigration officials when he landed at the Jomo Kenyatta International Airport (JKIA).
Raila said that the firebrand lawyer's return was part of his discussion with President Kenyatta at Harambee House before the famous March 9th handshake.
However, when the former Nairobi gubernatorial aspirant arrived at the JKIA from Canada, he declined to produced his passport for stamping, Raila said. Odinga further disclosed that even after going to the airport to  prevail upon him to present his passport to the officials, Miguna refused and only produced his national identity card.
Similar attempts by officials from the Canadian consular in Nairobi failed as Miguna refused to give in, Odinga further noted.
"I went to the airport and took Miguna's hand to take him away, the officers told me they have no problem and Miguna should only hand over his passport for stamping. He refused and said he doesn't have it," Raila said.
Raila urged Miguna to visit the Kenyan High Commission in Ottawa, Canada and get his papers to be allowed to reenter the country.
However, in a long statement sent to the press on Saturday, Miguna dismissed what he termed as "scandalous falsehoods" by the Opposing chief. Here is Miguna's full statement:
"I respect Raila Odinga as an elder. I am responding to the scandalous falsehoods and unbelievable claims he has made in London because I believe in honesty and truth.
First, by the time Mr Odinga arrived at the JKIA after 10pm on March 26, 2018, I had been detained there and refused entry by the Jubilee security forces for more than four hours. My flight had arrived at about 3:15pm that day.
Second, almost everything that transpired after my arrival was witnessed by my advocates, Mr Kamanda Mucheke of the KNCHR and the media. And none of them has corroborated Mr Odinga's newly invented facts.
Third, the media were outside when Mr Odinga left the arrivals area after the thugs violently assaulted me and tried to force me into an Air Emirates flight to Dubai: why didn't he condemn what Uhuru's thugs had subjected me to?
Why has he not publicly condemned the way I have been brutalized and tortured and my rights denied?
Does it mean that only Mr Odinga and Mr Kenyatta are reconciled with their families?
Fourth, it's true Mr Odinga grabbed my hand and tried to leave with me that night. However, our exit was violently blocked by more than 15 heavily armed policemen. The media captured this event on live TV. Nobody asked me for anything.
Fifth, Mr Odinga knows that I had a valid Kenyan passport, which the police and immigration officers confiscated after they had abducted me on February 2.
On February 15, 2018, the honourable Justice Luka Kimaru ordered that the valid Kenyan passport that was taken from me be returned to the court within seven days.
However, instead of complying with the court order, the Jubilee thugs perforated my passport and delivered it destroyed to the court. I didn't destroy my own passport; did I?
Sixth, everyone knows that there are numerous court orders that directed the state officials like Matiang'i, Kihalangwa, Boinnet and Kinoti to release me forthwith so that I could, among other things, attend court.
In fact, Justice Odunga even ordered them not to remove me from the jurisdiction of the court. Instead, they drugged me and forcefully removed me from Kenya unconscious.
Is Mr Odinga telling Kenyans that torture, sedation, destruction of my house, incommunicado detention and forceful removal are permissible?
Seventh, it's completely unacceptable for Mr Odinga to minimize the barbaric treatment I have been subjected to by suggesting that all I am required to do is go to Ottawa and receive my Kenyan passport when Kihalangwa has served a letter on me through the Kenya National Commission for Human Rights and my advocates, stating that they will not issue me with a passport and that they are continuing to disobey Justice Kimaru's order that quashed their purported cancellation of my citizenship.
Eighth, it's embarrassing and desperate for a man of Mr Odinga's age and status to lie that I had abducted myself; detained myself incommunicado at various police stations and at a toilet at Terminal 2, Domestic, of the JKIA; sedated myself; forcefully placed myself in a Dubai bound flight while unconscious on March 29; and forcefully exiled myself?
Finally, we must encourage the Kenyan media to be honest and report on facts accurately.
Stop encouraging leaders from lying and don't let them use you to misinform the public.
You have an ethical obligation to yourself, your profession and the public to report facts fairly and accurately. Thank you."