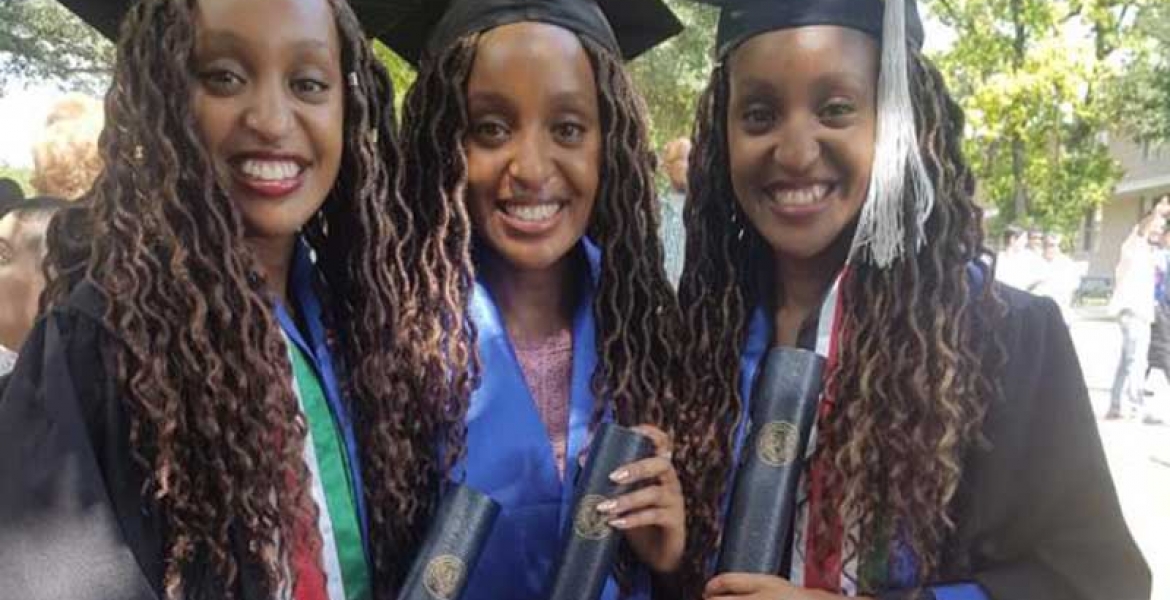 Popular Kenyan singing triplets, the Moipei triplets, have once again stunned the world after they graduated at the top of their class in the US.
The triplets, Mary, Martha and Magdaline, who sing in a gospel band alongside their younger sister Seraphine, graduated with first class honors at the St Mary's University in Antonio, Texas over the weekend.
The group rose to prominence when the scooped the 4th SABC Crown Gospel Musical Award at 12 and 10 respectively. United Nations Children's Fund (UNICEF) later picked them as UNICEF ambassadors.
"I am very proud of the girls for the achievement they have made this far," their father and director Nicholas Moipei told the Standard.
Nicholas and his wife Christine, together with their younger daughter Seraphine, joined the three in Texas to celebrate their success.
One of their best performances was when they sang the US National Anthem at the beginning of a National Basketball Association (NBA) fixture pitting defending champions San Antonio Spurs and the LA Clippers.
The group also performed in last year's inauguration ceremony of San Antonio mayor, Ron Nirenberg's.
Their tutor at St Mary's University, Meredith Kiesgen-Schilling said that, "Marta has a deeper voice, Mary is a high soprano and Maggy somewhere in between. Together their voices beautifully complement each other."
The Moipei quartet were among artistes who performed during President Kenyatta's swearing-in ceremony in 2013 at Kasarani Stadium.
The three were issued with scholarships to pursue professional degrees in music and related courses at the US institution four years ago.