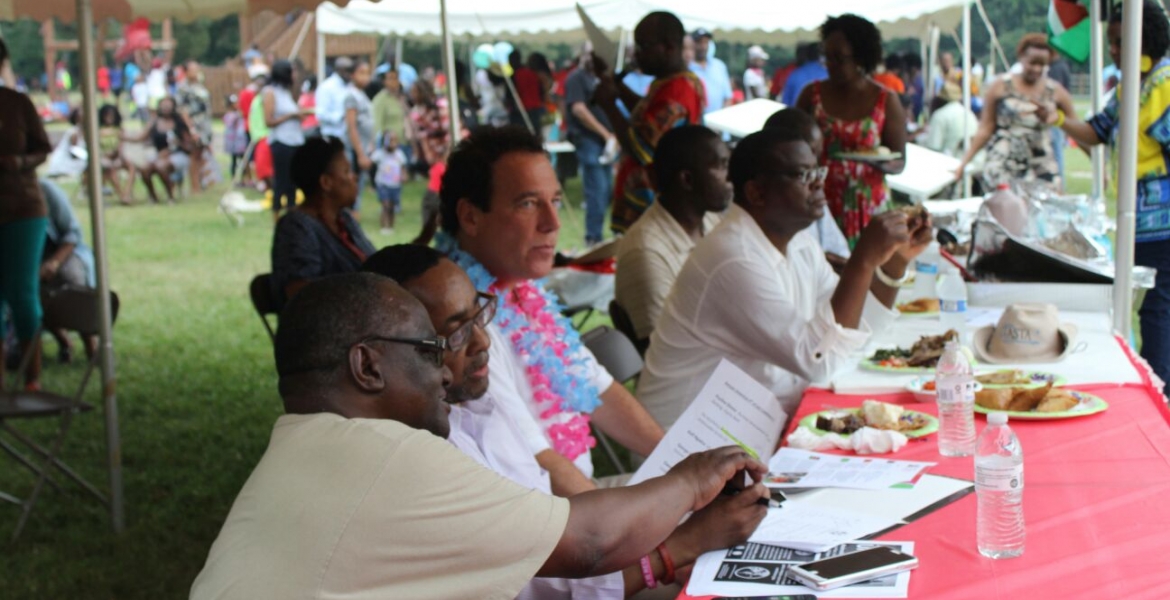 A record crowd of over a thousand Kenyan-Americans gathered at Gunpowder Falls State Park in Baltimore, Maryland on Saturday, July 1st for the Annual July 4th Celebrations/Family Fun Day.
The event, which coincides with the American Independence Day holiday, brings together hundreds of families each year from Maryland and surrounding states for a day of BBQ/nyama choma, fun, and networking.
This year's event was graced by among others Baltimore County officials led by County Executive Kevin Kamenetz and Kenya embassy officials led by H.E. Ambassador Robinson Njeru Githae.  
Ambassador Githae called for peace during the electioneering period in Kenya as the country gears towards the August 8th general elections. He also urged Kenyans in the Diaspora to participate in the Kenyan political process by voting, encouraging their relatives back home to vote, and by also running for the various political offices in Kenya. He regretted that Kenyans residing in the United States and various other countries will not get a chance to vote as the Independent Electoral and Boundaries Commission (IEBC) did not facilitate Diaspora voting for countries outside the East African region.
Ambassador Githae also urged Kenyans residing in the US to take advantage of the consular services provided by the Embassy, including renewing their Passports, applying for Kenyan National IDs, as well as applying for Kenyan citizenship for those who may have previously renounced their Kenyan citizenship and wish to regain it. Kenya Embassy officials were at the venue providing the various consular services on-site.
Baltimore County Executive Kevin Kamenetz, a big advocate for immigrants' right, pledged to use his authority to make sure immigrant communities in the County were not victimized by unfair federal or local immigration policies.  Kamenetz said that as a first-generation immigrant, he takes the immigration issue personally. He urged the Kenyan-American community to reach out to his office with any immigration issues affecting them locally. He also urged them to be proactive in protesting and to join immigrant rights groups that fight against unfair immigration policies.
Equity Bank representatives were also at the venue signing up attendees with the various products the bank offers to Kenyans in the Diaspora through its Diaspora Banking Solutions.
Real estate company Optiven Properties Ltd, led by its CEO George Wachiuri, was also among the vendors. Wachiuri encouraged Kenyans in the Diaspora to invest in the ever-growing real estate market in Kenya.
Among other speakers included Julie Weche of Elimu Tutoring and Training Center which offers tutoring services and summer camps for K-12 students, as well as Jesse Karangu and Esther Kimani who called on the youth to remain focused in life and maintain their Kenyan heritage.
Click here to view photos of the Event.