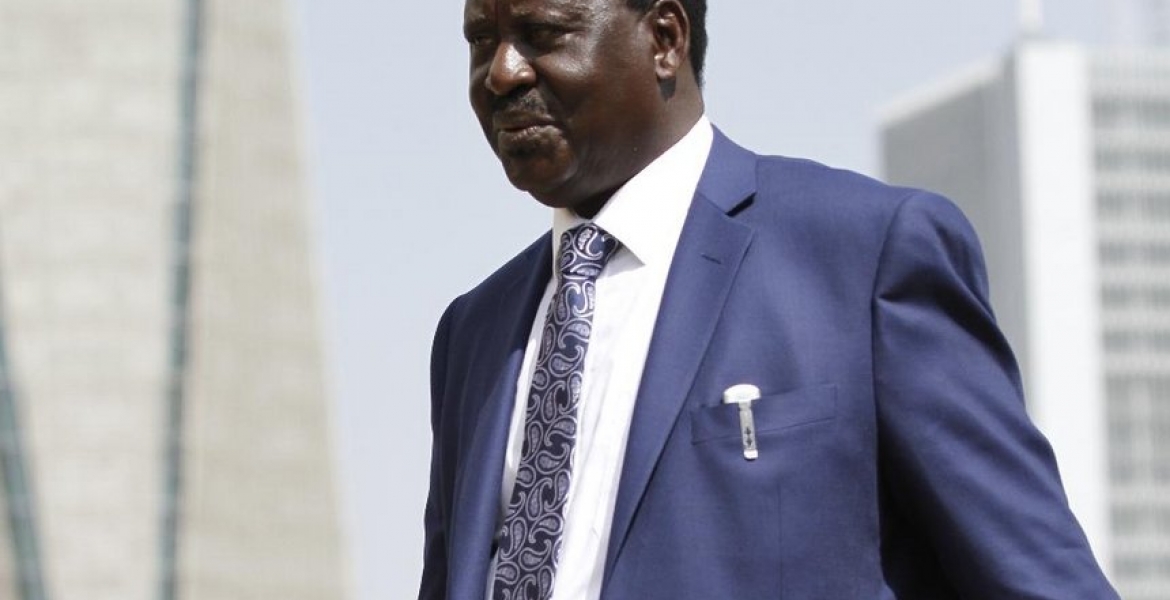 Kenyans in the diaspora who support National Super Alliance (NASA) flag bearer Raila Odinga have dismissed the Ipsos Synovate's poll released recently putting president Uhuru Kenyatta ahead of Raila Odinga.
According to the supporters, the poll released on May 31st, critically lacks merit.
"Forensic analysis looked unauthentic. It appeared to favor the current government. Dr Tom Wolf, of Ipsos however ignored the fact that Jubilee runs the government and Nasa does not and that nothing changed in terms of political dynamics since the last election," said Robert Ndede, a Kenyan researcher in a New York polling firm.
Ndede noted that comparing Nasa coalition that was formed barely five months ago with Jubilee, which has been in power for almost five years is misleading the Kenyan voters.
"For a coalition which has not laid a solid foundation or even campaigned widely in the country to be compared with Uhuru's Jubilee in terms of education, health care provision, and enhancing regional security by Dr. Wolf is an absurdity," Ndede said.
The supporters further pointed out that Ipsos found that of the 2057 Kenyans interviewed, 2 per cent approved of Jubilee's performance in improving the health of Kenyans, while zero per cent approves of Nasa on this issue.
"Zero per cent rating may mean that all Nasa supporters disapproved Nasa agenda or Nasa was not in existence by the time its development agenda was compared with that of Jubilee or nobody was interviewed at all and that the authenticity of Ipsos data is questionable," said Joseph Lister Nyaringo, who is also the president of Kenya Patriotic Movement, a diaspora lobby group.
"If a 2 per cent approval rate for Jubilee in health care provision and management is a fact, then the doctors' and nurses' strikes that paralyzed the country was justified. According to any known standard, it will be a disaster for any government to have a 2 per cent approval rating in health care," said Dan Ochweri, a Kenyan engineer living in Pennsylvania, US.
He added, "If 45.8 per cent of Kenyans lean towards Jubilee government while 34 per cent towards Nasa, yet 4 per cent of Kenyans approve the way its handling education, and 1 per cent, enhancing of security against Nasa's zero per cent and 1 per cent respectively, as per Ipsos, then this rating is too low for Jubilee."
According to them, there was no way 45.8 per cent of Kenyans whom Ipsos survey says leans towards Jubilee would do so towards a low-rated government.
"Ipsos rates Jubilee at 1 per cent in terms of how its handling security. Therefore, according to this poll, 99 per cent of Kenyans feel insecure, but are still supporting Kenyatta. In the past three polls, Ipsos puts Kenyatta's popularity at 50% but his government at below 10 per cent. If these polls hold, then Uhuru is overrated. Critical analysis of the surveys may depict a trend where figures are cooked to favour Jubilee," posed Ali Abdi Ali, a Kenyan living in the UK.
"If we compute the figures, according to the survey that put Uhuru at 50 per cent, the total number of people interviewed from Mt Kenya and Nyanza was 284 (26.2 per cent). Therefore 73.8 per cent were from other regions. For the President to have a 50 per cent overall, he must have gained popularity in almost all Raila's strongholds," Ochweri pointed out.
"A glaring inconsistency also referred to as digital preference syndrome is one way of cooking data. Here, you scrutinize repeated digit presentation. The individual doing the polling unconsciously prefers using repeated digits," Ndede said.
He added, "Figure 6 was the preferred digit. The survey found that the number of undecided voters was the same in Nyanza (6 per cent), Central (6 per cent), Eastern (6 per cent) and Rift Valley (6 per cent).  On the other hand , in March 2016 Ipsos interviewed 2076, on June 4 , 2016, it interviewed 2067 while on December 21 , 2016, 2057 people. This is cooked and not coincidental."
"Falsification of data is a criminal act in any society. It robs off an institution, firm or individual credibility and trust. Majority of Kenyans are not happy with Dr. Wolf's unauthenticated and unscientific surveys," Nyaringo said.