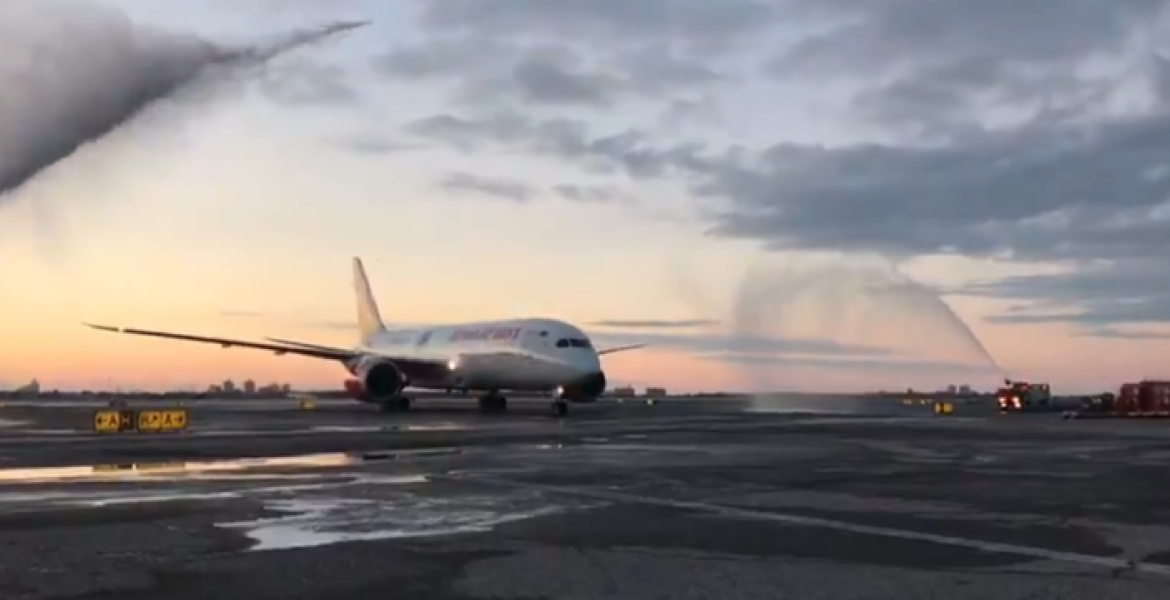 Kenya Airways' maiden direct flight to the United States has received a water salute upon touching the ground at the JKF International Airport in New York.
The Boeing 787-8 Dreamliner (5Y-KZE) plane KQ002 landed at the New York airport at 7:44am on Monday.
Water salute normally occurs for ceremonial purposes and is a touching airport tradition to honor military events, new flight service, anniversaries, noteworthy events at airport and foreign dignitaries.
It involves fire-fighting engines lining up on the sides of the taxiway and plumes of water sprinkled over an arriving or departing aircraft. It denotes respect and greeting.
Among the passengers aboard the historic flight was Foreign Affairs Cabinet Secretary Monica Juma and US Ambassador to Kenya Robert Godec.
President Kenyatta flagged off the aircraft at the Jomo Kenyatta International Airport (JKIA) on Sunday night and handed over the Kenyan flag to CS Juma while Ambassador Godec was given the US flag by a representative of the US Embassy.
Kenya joins South Africa, Nigeria, Ghana, Cape Verde, Ethiopia, Ghana and Morocco as African countries operating nonstop flights to the US.
The plane carrying 234 passengers left Nairobi on Sunday at 10:59pm, cruising at 888 km/hour. The long-haul flight lasted 15 hours.