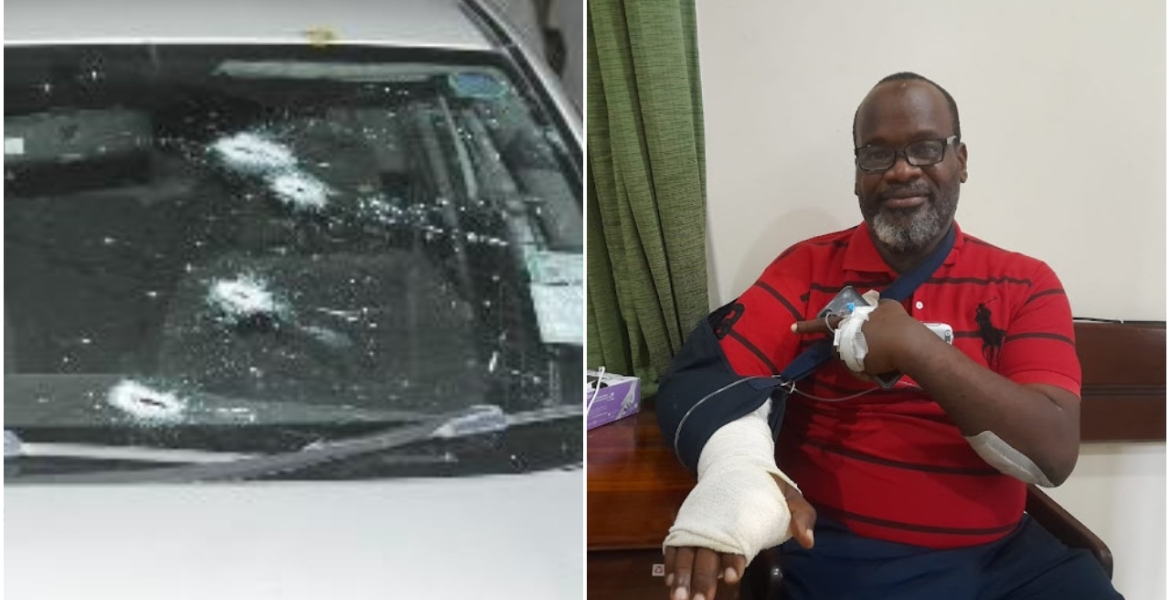 Mombasa politician Ali Mwatsahu, who survived a suspected assassination attempt on April 5th, has recounted the harrowing ordeal that nearly claimed his life.
Mwatsahu says he was driving home at around 9:30 pm after prayers at a mosque in Bamburi when he noticed a vehicle trailing him as he arrived at the Bumbululu area.
The politician did not give much attention to the vehicle as he assumed the occupant was just headed in the same direction as he was.
He continued driving until he arrived at a road leading to a local polytechnic when the vehicle trailing him overlapped and the occupant opened fire.
"As I was making a turn near Buxton Bar the vehicle that was behind me overlapped on my right and the occupant opened fire," Mwatsahu told Nation in an interview.
Mwatsahu, who was eyeing the Mvita parliamentary seat on a UDA party ticket, says the sole gunman fired four shots at his vehicle with what he believes was a small-caliber weapon.
He took cover under his car seat but the determined assailant fired more shots at his vehicle, this time using a high-caliber weapon, which Mwatsahu noticed due to its thunderous muzzle blast.
"As I was taking cover, I realized that my vehicle was covering the assailant's car in such a way that the gunman could not be seen by persons who were in the vicinity," recalled Mwatsahu.
"I stepped on the accelerator pedal and moved some metres away leaving the gunman and his vehicle out in the open. It is here that he decided to flee and leave me be after noticing that people could see him and his vehicle clearly."
The politician suffered a total of 13 gunshot wounds during the attack but he managed to exit the vehicle and plead with Tuk-Tuk operators who were at the scene to rush him to the hospital. Only one operator obliged as the rest were still shocked by what had just transpired.
"I was taken to Aga Khan Hospital where doctors were able to stop the bleeding after which they focused on determining how many bullets were in my body. The doctors were able to remove all 13 of them," he said.
Mwatsahu, who considers himself lucky to be alive, believes the attempt on his life was politically motivated but insists this will not deter him from pursuing the Mvita parliamentary seat in the forthcoming elections. He said he will vie as an independent candidate.
"Even the retired president Mwai Kibaki was handed the presidency when he was in a wheel chair. So I will also get the seat with all these bullet wounds. I am ready to battle it out for the seat," he said.
"I will continue campaigning as soon as my doctor declares me fit to do so and I will do this with individuals who are ready to work with me."