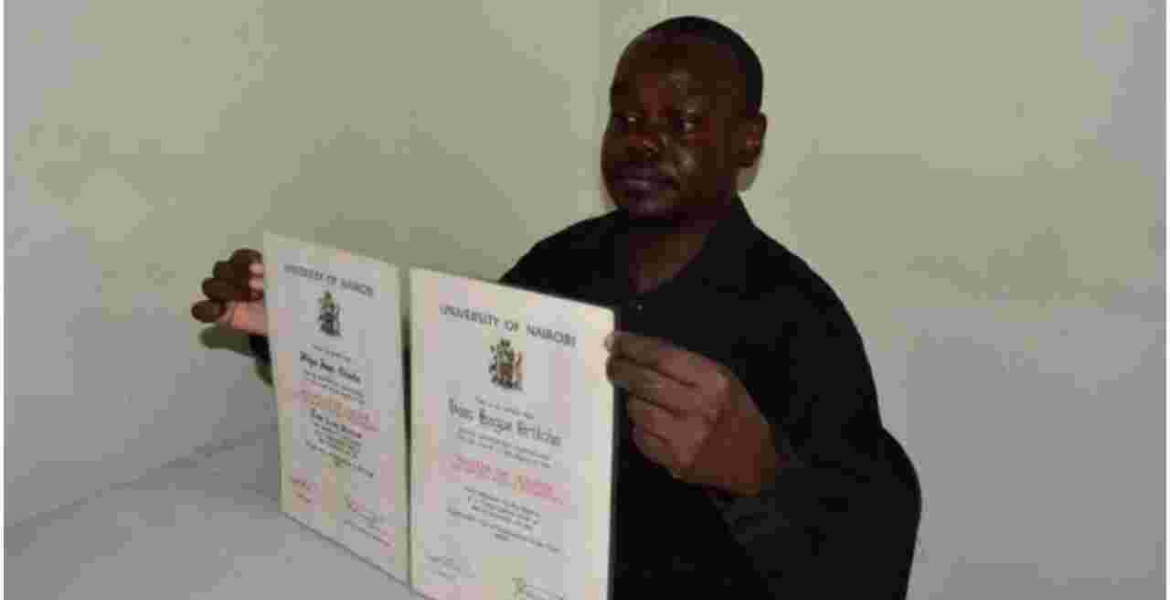 A 37-year-old Kenyan graduate is appealing for help after failing to secure a job since his graduation 14 years ago.
Isaac Hague Oritcho graduated with First Class Honors in Food Science and Technology from the University of Nairobi in 2007.
In his final year, he was awarded a certificate of merit for being the best undergraduate student in the faculty of Agriculture, an award that was accredited by the then Vice-Chancellor Prof. George Magoha, who is currently CS for Education.
Having been the best student in his faculty, the university awarded him a scholarship to pursue a master's in Applied Nutrition.
But despite his impressive academic qualifications, Oritcho has not been able to find a job.
"I didn't know that my hard work would one day betray me. I remember back in High School and University I would sacrifice my sleep to trans-night almost daily hoping my future would be bright. Unfortunately, right now I am surrounded by disappointments," Oritcho told K24.
He says he has applied for over 1,000 vacant positions in various sectors including health, NGOs, food and beverage factories, and universities but they mostly turn him down due to 'over qualification.'
"In the unlimited applications I have made ever since I graduated I have been turned down mostly for over qualifications or lack of job which to me is very strange," he said.
In 2017, Masinde Muliro University of Science and Technology employed him as a part-time lecturer for one semester but he was never paid. 
"I tried doing follow-ups but every time I am told to wait until I am like giving up. Someone was telling me to get a lawyer to help me out but I don't have money to pay him/her. I find it odd. I don't know if I am being punished for being a genius… Indeed the world can sometimes be unfair," Oritcho added.
Oritcho sat for his Kenya Certificate of Primary Education(KCSE) exam at Kondele Primary School and scored 486 marks out of 700.
He joined Kisumu High School where he sat for his Kenya Certificate of Secondary Education (KCSE) exam and scored a B+ in 2001.
He admits to contemplating suicide on many occasions due to his tribulations.
"Sometimes I think death is the only solution for me, especially that I don't see a chance of living. Not once, not twice have I thought of taking rat rat to take away my life because after death there is no suffering. I have suffered a lot, "he said.
"I remember about two years ago when I met my former classmate driving in a classy car. I was embarrassed and heartbroken when he asked me where I was. I didn't know how to answer him so I had to pretend that I was in a hurry."