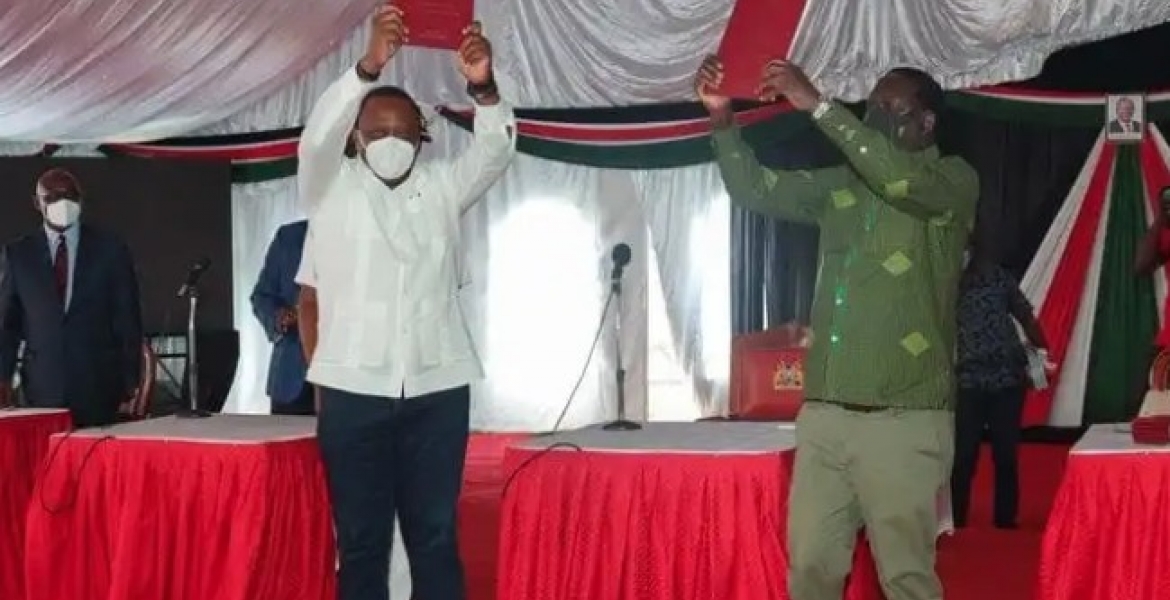 President Kenyatta and ODM leader Raila Odinga are on Wednesday expected to launch the collection of signatures to endorse the Building Bridges Initiative (BBI).
The exercise was initially set to kick off on November 19th but was postponed after delays in the completion and publication of the Constitution Amendment Bill 2020, according to the BBI National Secretariat.
Speaking during a media briefing on Monday, the co-chairs of the BBI National Secretariat Dennis Waweru and Junet Mohammed said Kenyatta and Odinga will launch the exercise at Kenyatta International Convention Centre (KICC) in Nairobi.
Waweru said they are seeking to collect at least four million signatures in all the 47 counties within a week, which is more than the required threshold of one million to amend the constitution through a referendum.
"We need 1 million signatures but we are looking forward to collecting 4 million," Waweru said.
"We now call upon all Kenyans of goodwill, those who want to see an end to corruption, ethnic antagonism, marginalisation of sections of society, the empowerment of youth, women and disabled to board the BBI train," Waweru added.
The secretariat pledged to ensure all Covid-19 protocols are strictly adhered to during the nationwide collection of the signatures.
During his State-of-the-Nation address on November 12th, President Uhuru called on Kenyans to rally behind BBI, saying it will provide long-term solutions to some of the challenges facing the country.
"…Let us engage in positive discourse on BBI with a view to effecting far-reaching changes that will address the perennial challenges we have faced as a nation including negative ethnicity; inclusion; equitable development and our fight against corruption," Kenyatta urged.