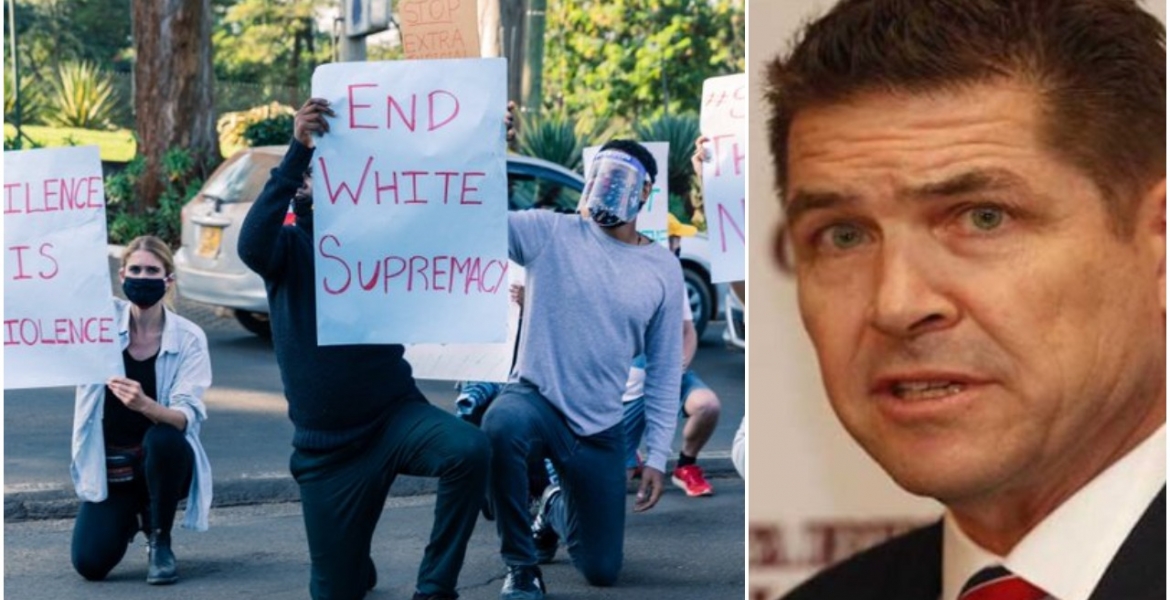 US Ambassador to Kenya Kyle McCarter has reacted to Tuesday's protests outside the American Embassy in Nairobi. 
A group of protesters camped outside the embassy in Gigiri to demand justice for George Floyd, an unarmed African-American man who was killed by a white police officer in Minneapolis, Minnesota last week.
46-year-old Floyd died after the police officer named Derek Chauvin kneeled on his neck in an incident that was captured on camera. The killing has sparked a wave of violent protests across US cities.
On Tuesday, protestors arrived outside the US embassy in Nairobi carrying placards with various messages. Ambassador McCarter addressed the crowd through a video.
He said: "I hear you. Whether virtually online or even standing peacefully outside our Embassy, I hear you. The actions of police officers in the killing of George Floyd are abhorrent. It must result in justice and accountability for those responsible."
"While no action can bring back George Floyd to his family, the officers involved have been arrested and both the Minnesota State and the national justice system are in the midst of full investigations." 
McCarter further assured the demonstrators that justice will prevail in the end.
An autopsy commissioned by Floyd's family and lawyer revealed that he died of Asphyxia, a condition arising when the body is deprived of oxygen, causing unconsciousness or death.
But Minnesota medical examiner's report released on June 1st said Floyd died as a result of "cardiopulmonary arrest complicating law enforcement subdual, restraint, and neck compression." 
Derek was arrested on Friday and charged with third-degree murder.