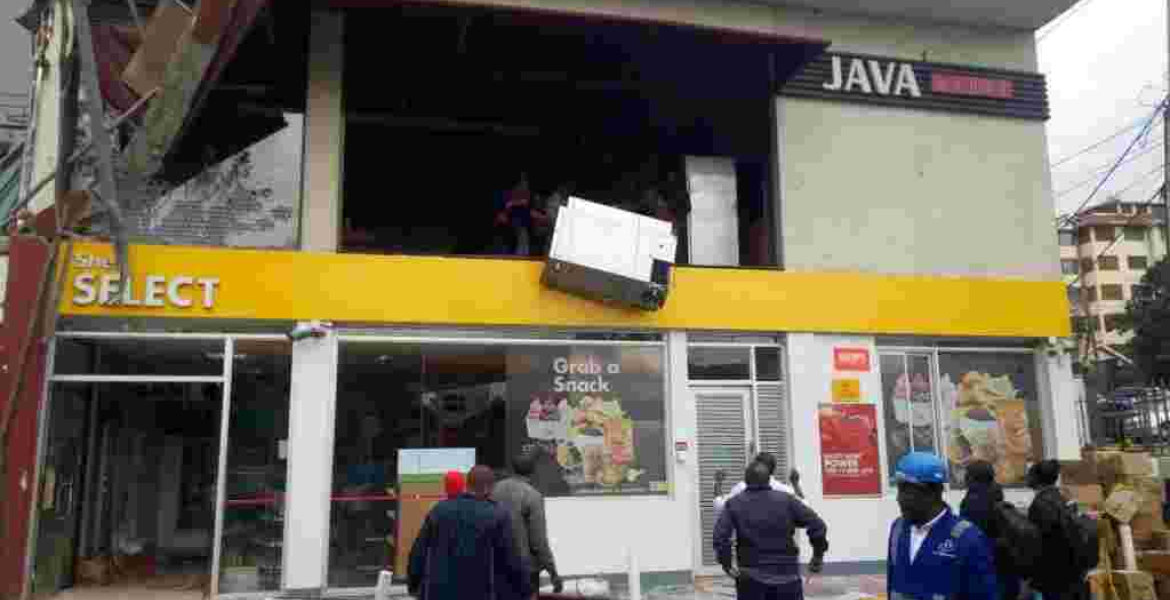 The National Environment Management Authority (NEMA) on Monday morning demolished a multi-million shilling Java House outlet and Shell Fuel station located in Nairobi's Kileleshwa area.
The demolition is part of an operation by a multi-agency taskforce made of NEMA, Kenya Urban Roads Authority (KURA) and Nairobi County Government officials targeting illegal structures in the city.
Business owners and workers were seen trying to save the little they could as bulldozers flattened the structures. The environment agency said the buildings were not only built on riparian land but also on a road reserve. 
Also destroyed in the 5am exercise were several billboards and kiosks. NEMA said it had issued a three-month notice to owners and extended it by a week but they ignored it.
Nairobi County Head of Inspectorate Peter Mbaya said demolitions of buildings located less than 50 metres from a river and those on the road reserve will continue in different parts of the city.
"Due to unforeseen circumstances, our Java Kileleshwa branch will remain closed until further notice. You can still enjoy your daily Java at neighbouring branches on Lenana Road and Hurlingham," Java House told customers via its Twitter account
So far, more than 2,000 illegal structures have been demolished in Nairobi.