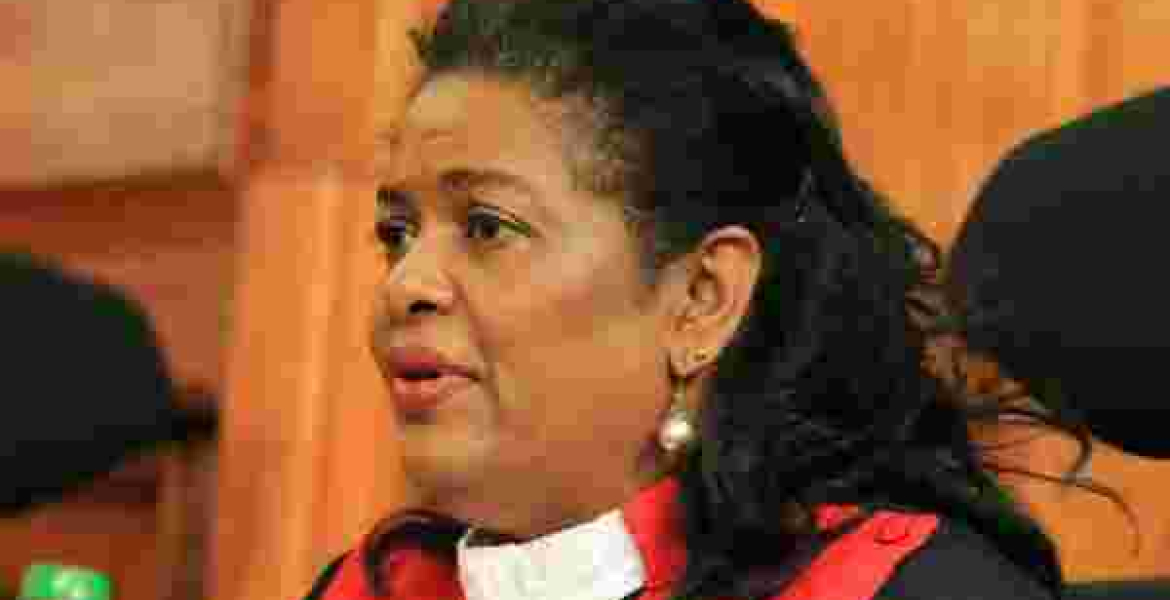 Lawyer Apollo Mboya has lodged a petition with the Judicial Service Commission seeking the removal of Supreme Court judge Njoki Ndung'u from office citing "gross misconduct and misbehavior."
In a petition filed Friday, the former Law Society of Kenya (LSK) chairman premises his ouster bid on Justice Ndung'u dissenting ruling in the presidential petition filed by opposition leader Raila Odinga.
Mboya argues that in her 440-page judgement, Njoki exhibited "lack of courtesy and civility towards the law and other judges".
The advocate also picks out a statement in Ndung'u's ruling that seeks to order lower courts to disobey the majority verdict.
"By dint of Article 163(7) of the Constitution of Kenya, the decision of the Supreme Court of Kenya is binding on the lower courts but Justice Njoki Ndung'u in paragraph 697 A of her dissent judgment disregarded the provision by directing the lower courts to disregard the decision of the Supreme Court," he states.
The lawyer further accuses Njoki of lacking judicial temperament, professional competence and that she lacks integrity, propriety and has no regard for equality and is incompetent.
Mboya also raises questions on Njoki's "substantive and procedural knowledge of the law, her "ability to maintain composure under stress" and her "ability to control anger and maintain calmness and order".
"Hon Justice Njoki Ndung'u dishonestly ignored the forms tendered by the Independent Electoral and Boundaries Commission for scrutiny and based her dissenting judgment on forms and material that were not tendered for scrutiny,".
"It was not humanly possible that Justice Njoki Ndung'u examined all the disputed forms from the date of hearing of August 28 to the date of summary judgement on September 1," adds Mboya.
Mboya wants JSC is to view Justice Ndungu's recent actions as an addition to a letter the commission had written to her on May 9th, 2016.
He wants the Judges' employer to, therefore, "initiate the necessary procedures for the removal of Justice Ndung'u for breach of the oath of office and for gross misconduct and/or misbehaviour incompatible with the status of a judge of a Supreme Court of Kenya".
In her detailed ruling read on September 20, Justice Njoki dissented with her colleagues' decision to overturn President Uhuru Kenyatta's victory.
Njoki ruled that her four colleagues disregarded proper documents on the grounds of an exercise whose recommendations were not in tandem with the forms presented by the electoral commission in court.
"The lack of security features or signatures from agents as cited by Nasa, was not by itself a reason to invalidate the election," she said.