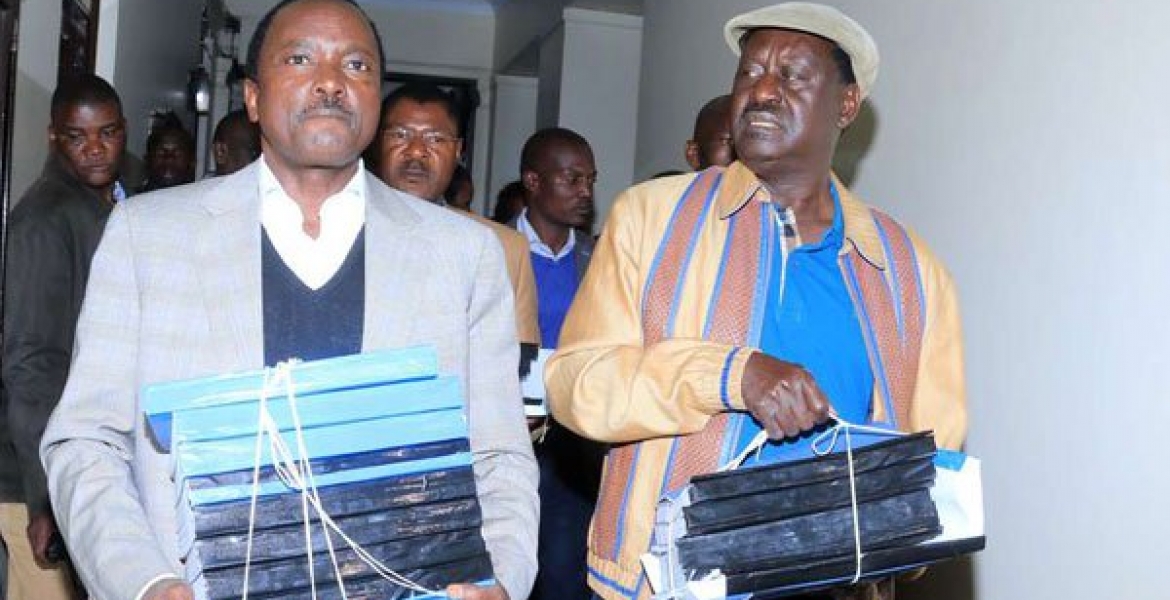 Even before the official hearing of National Super Alliance (NASA) presidential petition at the Supreme Court, a Jubilee Party leaders have poked holes on the suit.
The leaders have termed the petition as weak, inconsistent and incapable of nullifying President Kenyatta's declaration.
Tharaka Nithi Senator-elect Prof Kithure Kindiki led the onslaught against the opposition's petition, terming it crippled.
"I have gone through that petition, paragraph by paragraph, sentence by sentence and word for word from last evening, and as a lawyer, I am shocked. This is the weakest petition I have come across filed in any court across the world, trying to contest the election of a president," Kindiki said.
Senior counsel Ahamednassir Abdullahi, who represented Jubilee in several court battles also admitted to meeting his colleague Fred Ngatia to have a preliminary glimpse at the petition. The lawyer said the petition was weak compared to that of 2013 contest.
"We do not wish to litigate the matter through the media, but our preliminary finding is that this petition is addressed to Raila's political constituency and is meant to give false hope that the Supreme Court will give Raila what the Kenyan voter denied him on August 8," he said.
"The main thing that Raila complained about in his claim of electoral malpractice was the hacking of IEBC systems. But in his petition, he has completely abandoned this theory and is now telling us of some votes that were not added here and others that were subtracted there. It's such an underwhelming petition," added Abdullahi.
"In a presidential petition, one would expect that in the basic reading of what is filed, even without supporting it with further evidence, the court can identify the key element of the supposed electoral fraud. Unfortunately, what they have given us are stories and rumors," said senator Kindiki.
Elgeyo Marakwet senator Kipchumba Murkomen, also a lawyer, said the petition was a fishing expedition.
"This is a hopeless petition They have always told us that the systems were hacked and that is how rigging occurred, but when you read the petition, there is nothing on this," said Murkomen.
"The Supreme Court has no redemption to make. NASA must stop these acts of intimidation," he said.
Garissa Township MP-elect Aden Duale said the petition was hollow and lacked in substance.
"They claimed to have 25,000 pages of evidence, revised the same to 9,000 pages, but only came up with 4,000 pages," he said.
Jubilee Party Secretary General Raphael Tuju questioned how Raila claimed he won the Presidency, when Jubilee has the majority of governors, senators, MPs and Women Representatives.
"How can you convince anyone that you actually won the popular vote, but your coalition performed so dismally in other elective positions? How do you explain that Jubilee won super majority in both houses of Parliament and also clinched the majority of gubernatorial seats?" posed Tuju.
"At times you need to simply look at the numbers. Even if he (Raila) was to be declared President, where would he garner the majority to help him govern?"