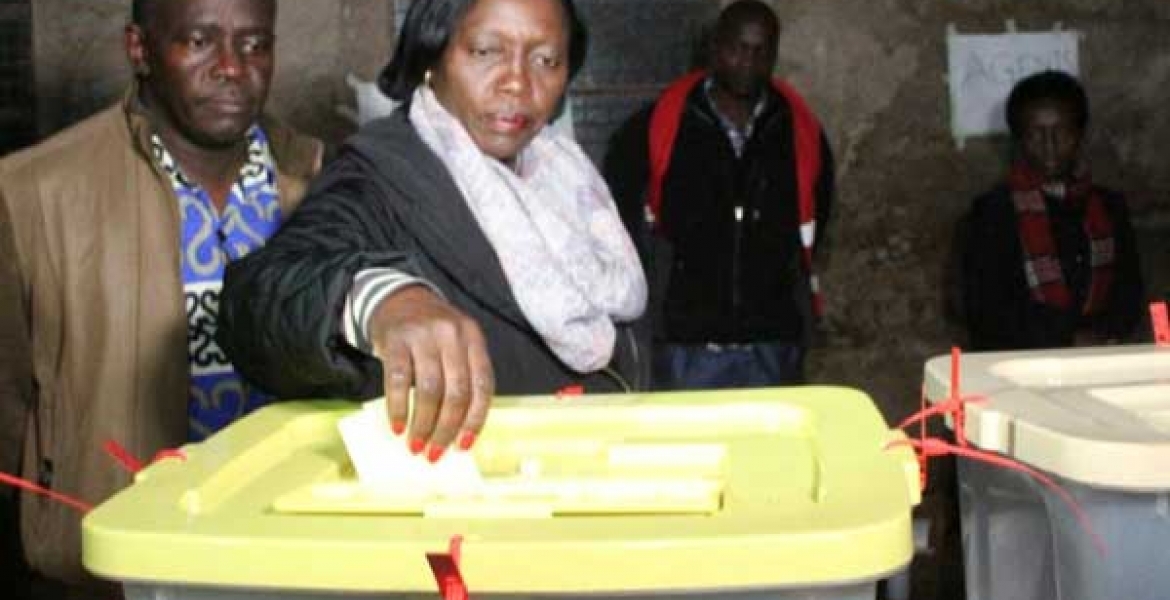 Narc Kenya Kirinyaga gubernatorial contestant Martha Karua casts her ballot at Mugumo Primary School in Gichugu constituency
Kenyans started casting their votes on Tuesday in an exercise characterized by long queues.
Voting started at 6am in most polling stations across the country where voters started trooping in as early as 3am.
Anxious voters camped at the polling stations throughout the night ready to cast the vote on Tuesday morning, signaling a likely high voter turnout.
Hundreds of voters started lining up at 11pm and more were queuing in at 1am at Moi Avenue Primary School in Starehe constituency in Nairobi, five hours ahead of 6am when polls were set to open.
"I thought I am the only one coming early… I am surprised at the number of people here and the more that are coming," Peter Mureithi said, having joined the queue shortly before midnight Monday.
"It was easier for us to stay here than go home then come back here early in the morning. We have our jobs to do and our families to feed but we also want to exercise our constitutional right to vote for the leaders we want," one of the voters who identified herself as Muthoni said.
Another voter added: "There is no sleeping today. If we have to, we will do so while sitting here. We want to be among the first ones to vote and by 9am all of us should be back to work. Above all, we want to vote peacefully."
Most voters remained adamant that peace must reign during and after voting.
"Everyone has a right to vote and we should all be ready to accept the results. There is no need to fight because of elections. We are all Kenyans irrespective of tribe. If we fight, will any of the candidates come to bring us food in our houses?" Calvin Otieno, another voter said after joining the queue at midnight.
Another one added: "These politicians always say we are the stupid ones because for them at the end of the day they will be friends, call each other brother and son while we are fighting with each other for them. We must be friends too."
Heavy security at the polling stations has been witnessed with more than 10 police officers patrolling the voting areas.
Kirinyaga gubernatorial contestant on a Narc Kenya ticket Martha Karua was among the first people to cast their ballot at Mugumo Primary School in Gichugu constituency at 6:19 am.