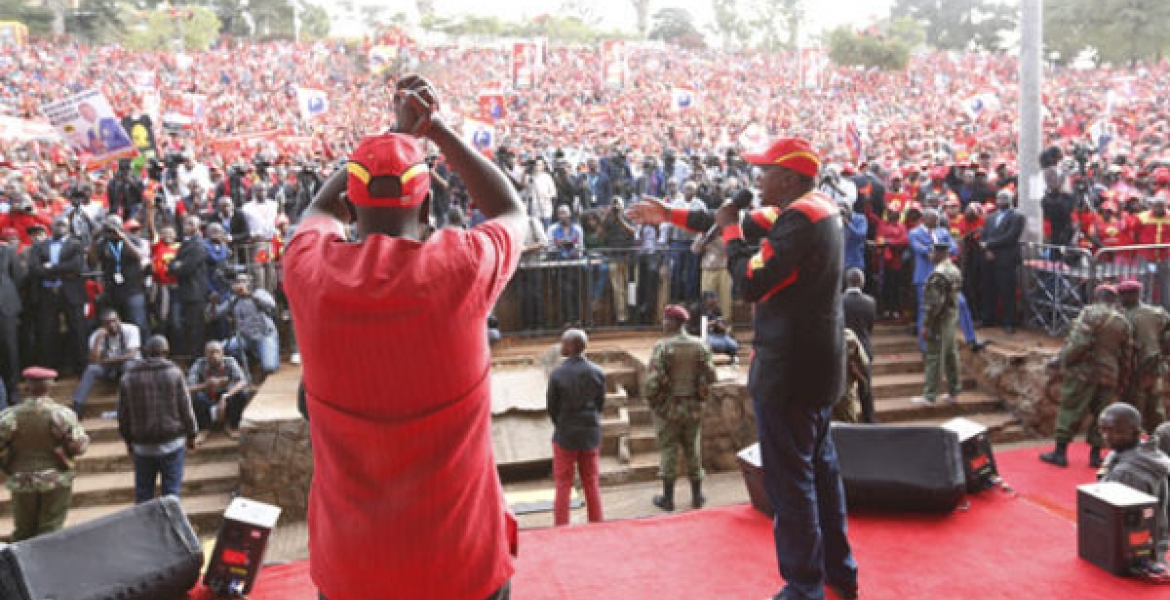 As the Jubilee brigade led by President Uhuru Kenyatta and his deputy William Samoei Ruto painted the historic Uhuru Park grounds red, the head of state called on his supporters and Kenyans not to vacate the city and instead remain to take part in next week's general elections.
Residents of the city have been leaving in recent weeks as tension ahead of Tuesday's elections continue to heighten, but President Uhuru Kenyatta assured them that the government will provide enough security and ruled out possibilities of chaos and violence.
"Stay put within the city for you to have a chance to exercise your democratic right," the President said.
Addressing thousands of supporters who turned up at the rally, the head of state told Nairobians not to fall for the "fear mongering" saying he shall "ensure every person is safe."
"I kindly ask you to vote for Jubilee on Tuesday and so that our women can continue delivering without paying and so that our children can go to secondary school without paying fees," the President said amid cheers.
"I want you all to assure me that you shall turn out in large numbers to vote and then proceed home, shake your neighbor's hand and wait for the outcome together," the President said.
Uhuru highlighted some of the key achievement by his administration in the last four years and promised that Kenyans will see more in his second term in office, especially in creation of jobs and cost of living.
"We have now put in place an action plan that we intend to implement in our second term to create 6.5 million quality jobs for Kenyans in the next five years. That is why it is important for Kenyans to vote for Jubilee," President Kenyatta said.