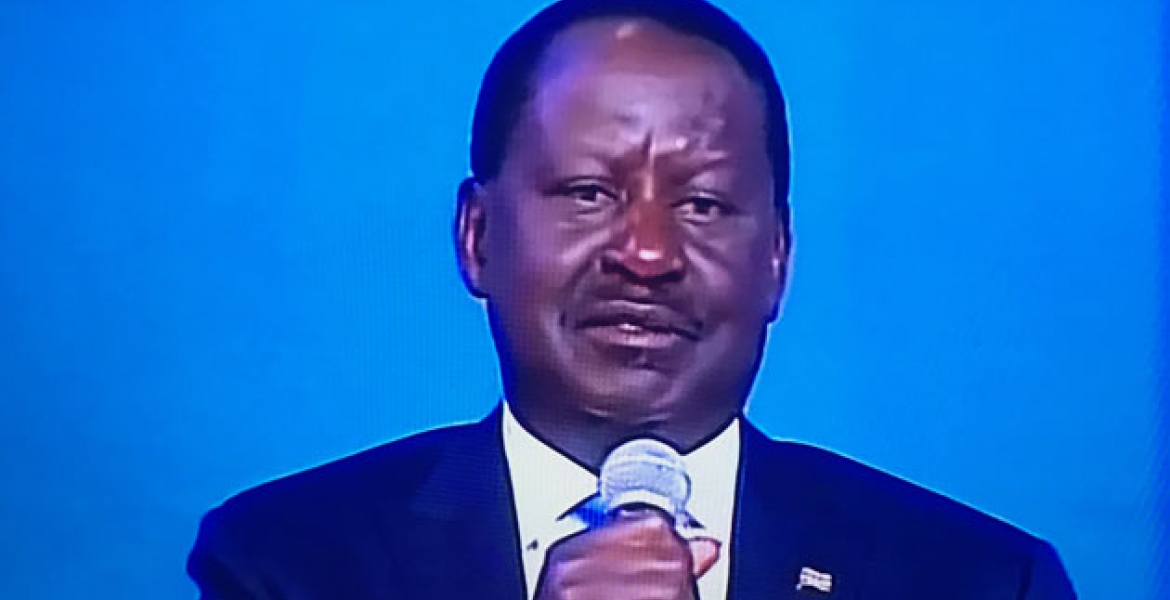 NASA Presidential candidate at the Presidential debate on July 24th, 2017
National Super Alliance (NASA) presidential flag-bearer Raila Odinga appeared solo at Monday night's second session of presidential debates, after President Uhuru Kenyatta failed to show up.
Jubilee Party had announced that President Uhuru would not honor the invite, saying the debate organizers did not involve the party in organizing on the format and rules of the debate. "The position is that the President is not coming but if he decided to show up, that's his prerogative," Jubilee Vice President David Murathe tol The Standard on Monday evening.
When he took to the podium at Catholic University of Eastern Africa, Raila said his first agenda if elected as president will be to bring down the cost of living, tame food shortage, create jobs and control residential rent. He also accused the Jubilee administration of borrowing heavily, only for most of the borrowed funds being embezzled instead of going into the intended projects. "Every shilling spent, another is stolen. As NASA we will address the issue of fiscal discipline and create employment," said Raila.
On the issue of rent, Raila said that although Kenya is a free-market economy, there exists a provision in the Constitution to control rent and prevent the poor from being exploited. "It's a free market economy yes but we have a law called Rent Restriction Act which is meant to address the cost of housing and protect the poor from exploitation. This law has not been implemented. We are going to enforce the law and ensure [poor tenants] are not forced to pay what they can't afford," he said.
While admitting the NASA is creating a parallel tallying center, the former prime minister denied that the coalition is receiving help for the tallying center in Da se Salaam from Tanzanian President John Magufuli. "We've made it clear that we're going to be tallying so that we can compare our results with those of the Independent Electoral and Boundaries Commission (IEBC). Why should somebody be worried about a tallying centre even if it is in Germany, the US or the moon? We're just adding up results," said Raila.
Raila reiterated his opposition to the deployment of Kenya Defense Forces in Somali to fight Al Shabaab, saying the forces were wrongly included into the African Mission Union Mission (AMISOM). He pledged to withdraw the forces from the fight in Somalia if elected.
As part of his closing remarks, Raila said he will accept defeat if the process is free, fair and credible, adding that "Asiye kubali kushindwa sio mshindani."