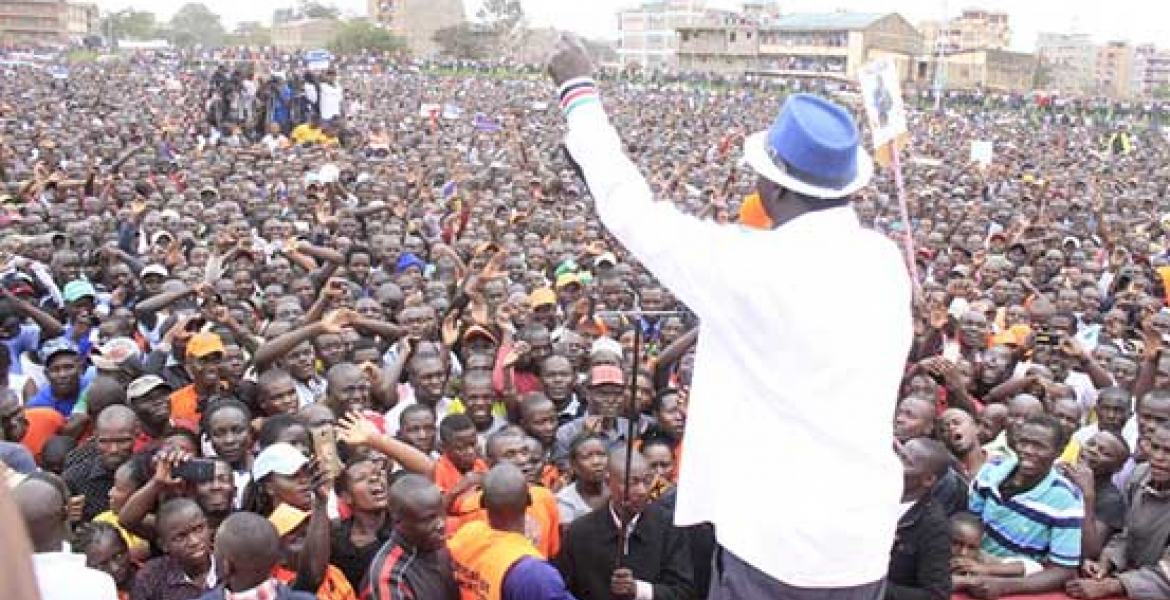 National Super Alliance (NASA) presidential candidate Raila Odinga has once again cautioned his supporters living in Nairobi against fleeing the city for fear of violence in the August 8th general elections.
The former Prime Minister told his supporters that fleeing the city will mean that NASA will lose much needed votes to oust President Uhuru Kenyatta from power in the upcoming contest. He asked them to remain and exercise their democratic right of voting and decide the future of Kenya.
Speaking at a campaign rally in Nairobi's Muliro Gardens in Mathare on Sunday, Raila said that NASA cannot afford to lose a single vote in their quest to take over the leadership of the country and urged his supporters to be part of history that NASA is about to make in next month's poll.
"Every vote counts. We are asking all our supporters to remain where they registered and cast their votes. The police must ensure that all Kenyans remain safe irrespective of their political affiliations," said Raila.
His sentiments were echoed by Bungoma senator Moses Wetang'ula who called on supporters to stay put and vote for Raila.
"The power of the people is stronger than the people in power. Stay put where you are and ensure that you cast your vote. If you feel the burden of living has increased, stay put and vote," he said.
Raila reiterated that NASA will go ahead with the parallel tallying center and all other measures they have put in place to protect their votes from rigging, despite threats from Jubilee government.
"No amount of force or threats will stop the wind of change. When they count, we count, when they announce, we announce and when they transmit the results, we transmit the results. We are sealing all the loopholes for rigging the elections this time," said Raila.