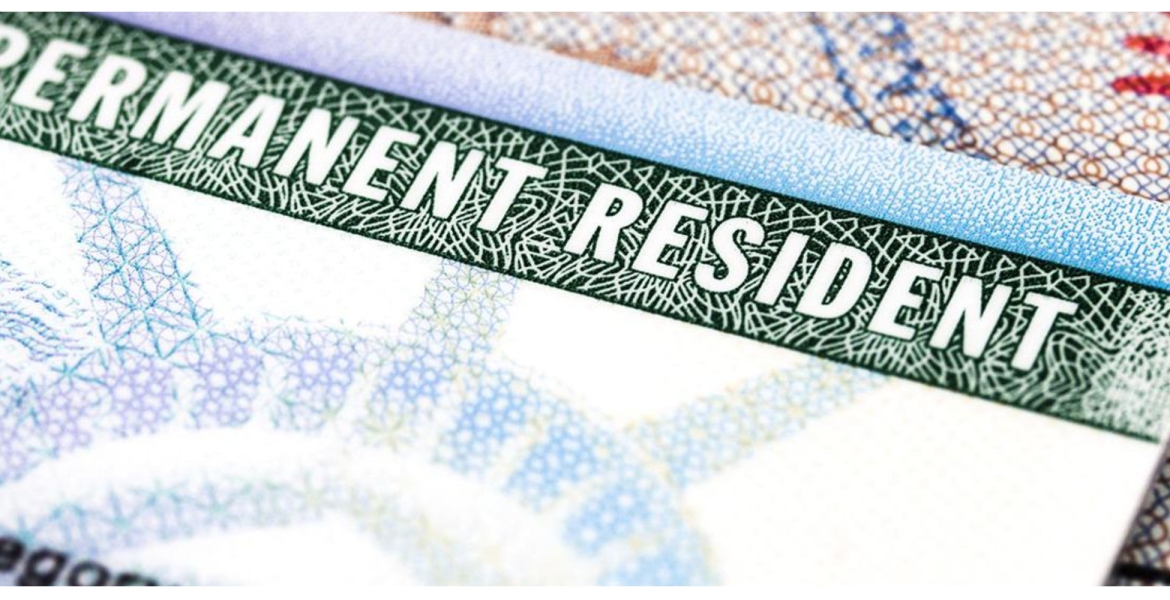 A green card, known officially as a permanent resident card, is an identity document issued to an immigrant who becomes a lawful permanent resident of the United States. 
Permanent residence is a type of immigrant visa that allows foreign nationals to live and work lawfully in the US. Green card holders can also become US citizens after three or five years of permanent residence status. 
There are many ways to become a US permanent resident, and there are several types of green cards including DV lottery green cards, family-based green cards, humanitarian green cards for refugees and asylum seekers, employment-based green cards, and other special categories of green cards.
Green cards are granted for 10 years and then require renewal.
Diversity Lottery Green Card
The green card diversity lottery program is considered the easiest way to get a green card to the US. Under the Diversity Immigrant Visa Program (DV Program) the US State Department makes up to 55,000 immigrant visas available annually, drawn from random selection among all entries to individuals who are from countries with low rates of immigration to the US.
The purpose of the green card lottery is to promote the diversity of the pool of fresh immigrants entering the US each year. 
To apply for a green card in this category all an applicant has to do is enter their name in the lottery and follow the basic rules involved. 
Family-Based Green Card
Close relatives of U.S. citizens and current green card holders may apply for family-based green cards of their own. Eligible family members include spouses, children, parents, and siblings (as well as the spouses and children of those spouses, adult children, and siblings).
Also included in this category are widows and widowers who were married to a US citizen at the time the citizen died. Like spouses of living U.S. citizens and current green card holders who apply for a marriage-based green card, widows and widowers must prove that their marriage was authentic in order to receive a green card.
Many extended family members — cousins, aunts and uncles, and grandparents — do not qualify.
Employment-based Green Card 
Within the employment-based green card category, multiple subcategories of workers can apply for permanent residence. In some cases, their spouses and children may qualify for a green card, as well.
Below are employment-based subcategories and the types of jobs that fall under them:
1.    Priority workers (EB-1)    
Positions in the arts, sciences, education, business, and athletics that require extraordinary ability, utstanding professors and researchers, ultinational managers and executives.
2.    Professionals with advanced degrees and exceptional abilities (EB-2)    
Positions requiring at least a master's degree, positions requiring at least a baccalaureate (bachelor's) degree, plus at least five years' relevant experience, positions in the sciences, arts, or business requiring exceptional* ability, positions of national interest
3.    Physicians (EB-2 with a special waiver)    
Physicians who agree to work full-time in underserved areas for a specific period and meet other eligibility criteria.
4.    Skilled, unskilled, and professional workers (EB-3)    
Skilled positions that require a minimum of two years' training or experience that is not temporary or seasonal, unskilled positions that require less than two years' training or experience that is not temporary or seasonal, professional positions that require at least a baccalaureate (bachelor's) degree from a U.S. university or college or the equivalent of this degree from a non-U.S. school.
5.    Special workers (EB-4)    
Media professionals, religious workers and ministers, certain other employees, retirees, and their family members.
Humanitarian Green Cards for Refugees and Asylees
People who fear, or have experienced, persecution in their home country because of their race, religion, nationality, political opinion, or membership in a particular social group can seek protection in the US by applying for a visa from abroad (to come as refugees) or from within the United States (to remain as asylees).
Once they have physically lived in the US for at least one year since receiving refugee status or asylum, they may apply for a green card. Children and spouses (and in some cases, other family members) of refugees and asylees may also seek protection in the United States under these programs and eventually apply for a green card.
Student Green Card
The process involves getting an I-20 letter confirming you have registered at the school and can afford the cost of studying there, and then apply for the student visa abroad through a US consulate. The road to a green card on this track can be briefly depicted as: Student visa-> Post grad OPT work permit -> H1B work visa -> Labor certification and PR application -> green card. 
Investment-Based Green Card (EB-5 visa)    
Non-U.S. nationals who have invested or are investing at least $1 million (or $500,000 in a high-unemployment or rural area) in a new U.S. business that will create full-time positions for at least 10 workers can get a green card.