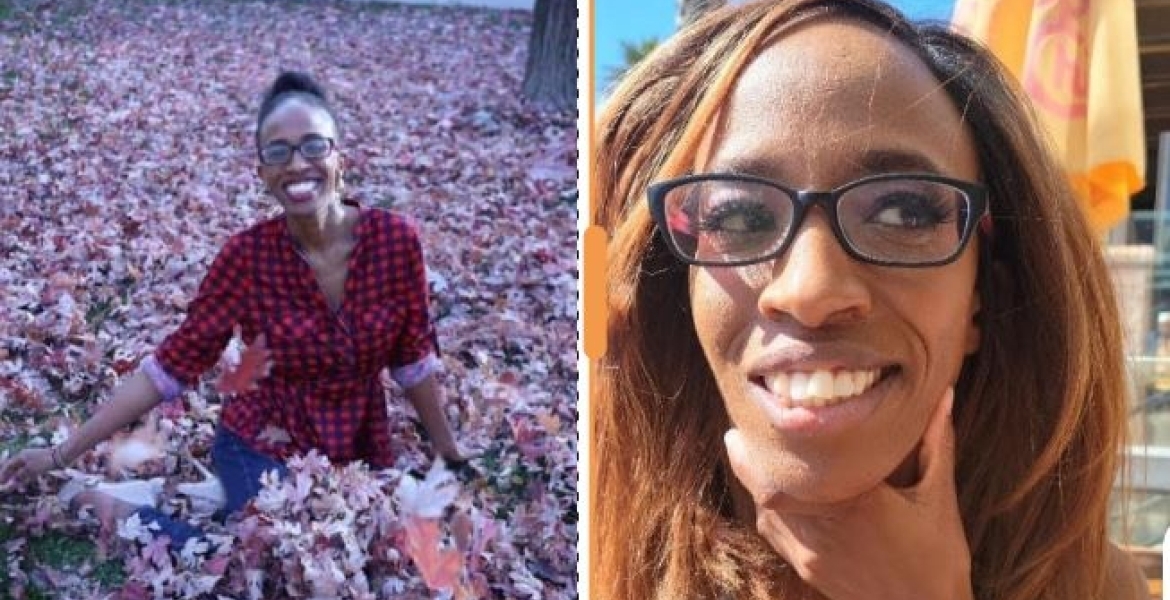 The family of a Kenyan woman who went missing in the United States six months ago has opened up about the events leading to her disappearance.
Irene Gakwa of Gillette, Wyoming has not been heard from since February 24th when she had a WhatsApp video call with her parents who live in Nairobi, Kenya.
During the video call, her father Francis Kambo teased her that she looked hungry and tired, CNN's Faith Karimi reported. He also noted that her smile was more subdued and her short hair, usually braided, was rumpled.
"Make sure you drink hot milk and relax," Kambo told her during the call. 
That was the last time anyone in her family saw her. 
About a month later on March 20th, her brothers Chris Munga and Kennedy Wainaina, who live in Idaho, reported her missing to the Gillette Police Department.
The two and Irene shared a cell phone family plan. When the brothers failed to reach her, they looked through her phone records and called a close friend she had talked to several times.
That is how they learned that Irene had been cohabiting with her boyfriend named Nathan Hightman, 39, in a three-bedroom house in Gillette. 
The couple had dated since 2020 after meeting on a Craigslist dating forum but had broken up several times. Her brothers thought the two were no longer dating and were not aware they had reunited and moved in together. Irene's parents were similarly not aware she was living in Gillette with Hightman. 
"She's always been a daddy's girl. She was supposed to come home for Christmas this year. I was going to buy that ticket myself for her to come if she couldn't afford it. Now I don't know if I'll ever see her again," her dad told CNN in a phone interview.
Her father started suspecting that something was amiss in late February when she did not respond to repeated video calls. This was unusual for Irene, who called her parents almost daily.
This was followed by some odd messages that looked like someone was using Google Translate to send them. Her brother says Irene used a mix of Swahili and Kenyan slang.
"The texts would be out of place," her father said.
In early March, her parents also received WhatsApp messages from her account explaining why she was not doing video calls.
"Dad, I dropped my phone in the water and now the microphone doesn't work," one message said. Another said, "I just want you to know I love and miss you and mom."
"We miss you ... we want to see you, not just chat on WhatsApp. We love you always. You will ... be my daughter forever," her dad responded.
Hightman told police in March that Irene came home one night to grab some belongings and then left in a dark-colored SUV, according to statements from the Gillette Police Department.
Hightman, who has been identified as a person of interest in Irene's disappearance, has since pleaded not guilty to multiple felonies for allegedly using her banking and email information without permission, Campbell County court records say. 
The Gillette Police Department said Hightman has not cooperated with the investigation and has refused to answer questions.
"We believe he has information pertaining to the disappearance of Irene, but he has elected not to provide that information to law enforcement at this time," Gillette police detective Dan Stroup told CNN.
Investigators executed a series of search warrants for Irene's bank account, which showed that Hightman transferred a total $3,666.46 from her account in eight transactions and also changed her banking password.
Another search warrant executed on Irene's email account showed the account password had been changed from a device with an IP address that detectives traced back to Hightman, per the affidavit.
The affidavit also stated that a warrant for one of her credit cards showed several charges totaling over $600, one of which occurred at Walmart for a shovel, a pair of boots, and a pair of pants that Hightman was seen carrying in a surveillance video of the transaction. The boots and shovel were later located at Hightman's residence.
A separate warrant for another of Irene's credit cards revealed a series of charges between February 25th and February 28th totaling $804, while another series of charges between March 1st and March 19th totaled $2,426. 
About 10 transactions were traced back to Hightman's IP address; none of them traced back to Irene's phone IP address, according to the affidavit. The investigation also revealed that Irene's email account had been accessed using Hightman's IP address on March 10th and was closed.
Hightman admitted to accessing Irene's bank account and withdrawing money in an attempt to force her to contact him when she needed cash. He was released on a $10,000 bond and his pretrial conference is scheduled for November.
Attempts by CNN to reach Hightman were futile as he did not respond to phone, text and email messages. His public defender Dallas Lamb could not be reached as well.
Gakwa's two brothers and her sister-in-law have been commuting to Gillette from Idaho on weekends to take part in search parties organized by the local community. Their searches have taken them to morgues, hospitals and shelters for unhoused people. They have also created a website, whereisirene.com. 
Some residents of Gillette have rallied to find her and have hosted weekend search parties and put up missing person signs. 
"No family should ever have to go to bed at night wondering where their loved one is," said Gillette resident Stacy Koester, who has been organizing searches with a group of local women since April.
"We promised her father and her brothers that we will never stop searching until we bring her home or they have answers. That's our goal. We are their family here in Gillette."
Irene, 32, emigrated to the United States in May 2019, hoping to launch a career in healthcare. She first settled in Idaho where she lived with her brother Munga, and his wife Gyoice Abatey in Meridian.
Irene and her boyfriend eventually moved in together in Meridian, and she started nursing school at College of Western Idaho. In the summer of 2021, the couple moved to Gillette, where she transferred to Gillette Community College.
Her father would often ask Irene if she wanted to return to Kenya.
"She'd tell me, 'Dad, I'm good. I have my own life now,'" Kambo said.
Her family is still hopeful that somehow Irene will contact them or come back home. 
"She was my only daughter. I spoiled her and she took advantage of that. She had not introduced Nathan to me -- that's what kills me," said Kambo.
"I just want to know the truth. I'm still hopeful, but my hope is dwindling. She knows my number. The fact that she has not called ..."
Investigators believe Irene was taken to a rural area, mine site, or oil and gas location in a passenger vehicle or crossover SUV between February 24th and March 20th.
Detectives are asked the public for information concerning a gray or silver Subaru Crosstrek with Idaho license plates that may have been trespassing or appearing out of place in rural Converse County between those dates. They also sought information about a possible 55-gallon metal drum that may have been burned or abandoned in the county.