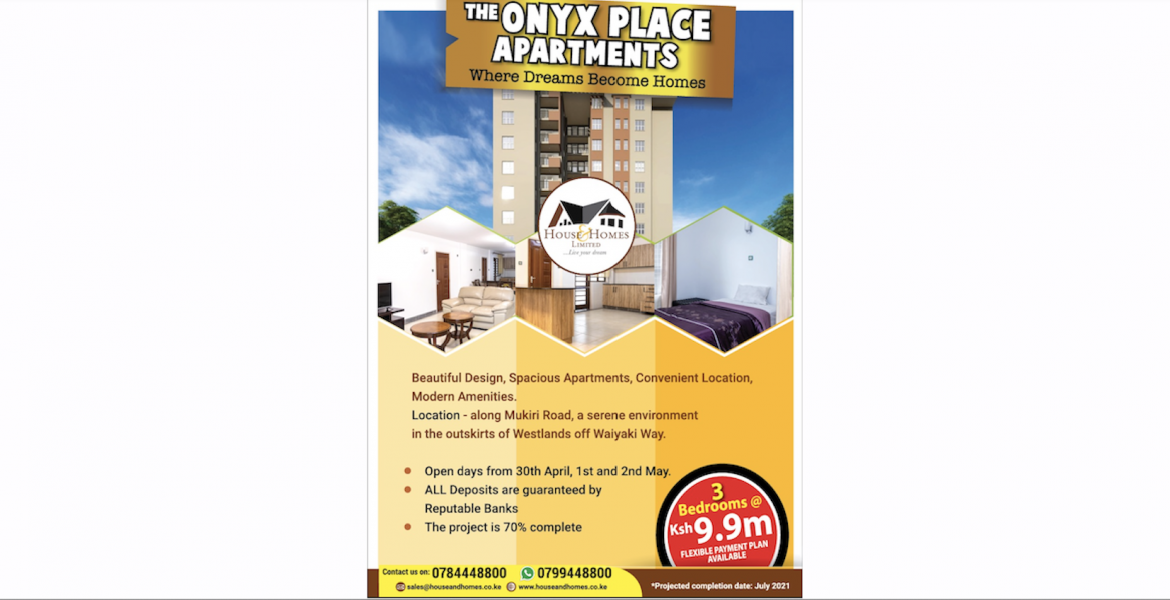 In the year 2019, House and Homes Limited started The Onyx Place Apartments project which had been the dream of the directors to undertake apartments for sale, under guaranteed deposits by local banks. This dream had been conceptualized by the directors as one of the pioneering solutions to ending the problem of investors losing their hard-earned monies. House and Homes Limited has been in existence for more than a decade providing housing solutions to Kenyans. With the research done and fully understood by the team at House and Homes Limited, we all embarked on finding the best local banks to guarantee the investors' funds.
House and Homes Limited is almost finalizing with The Onyx Place Apartments and as early as end of July 2021 the units shall be ready for occupation. A journey of a thousand miles starts with the first step, and as we embark on completing The Onyx Place Apartments, we are proud of the work and effort that has gone into this project. We assure you, being the first company to launch the deposits guaranteed by reputable banks, we shall take you to a journey you shall always remember and appreciate.
As we gear towards handing over the project to the rightful owners, we also look forward to serving the current and future investors with more housing projects. We are over 85% complete with all our service providers sticking to the project timelines. We operate on first come first serve basis and we look forward to offering our buyers these beautiful units.
Having been in Real Estate Development for over a decade has given us the necessary experience and understanding of the complexities that surround Property Development and Ownership. Our observation of the risk averse investor made us come up with the concept of securing the investors' funds through Bank Guarantees from local reputable banks. In doing so we ensure that all our investors shall NOT and shall NEVER lose their money.
We at House and Homes Limited are glad to introduce The Onyx Place Apartments. This development targets the sharp investor, able to successfully aim for a return of over 10% per annum. Waiyaki Way presents the investor with the best choice as the road is opening up the area for greater fortunes. The Onyx place apartments is well appreciated by potential investors as the returns are well defined. When you invest before the completion date (end of July 2021) you shall enjoy greater discounts on our cash payments. To safe guard the investor's funds in regards to completion delay, we as House and Homes Limited have taken a Bank Guarantee ensuring that ALL your funds are safe and secure.
The Onyx Place is located off Waiyaki Way on Mukiri Road, with an urban feel and natural ambiance for those who appreciate a lifestyle of quality and comfort. The project consists of 64 units sitting on a 3/4 acre of land. The apartments consist of 3 bedrooms without an SQ, with a plinth area of 135 Sqm (1453.13sqft) and 3 bedrooms with an SQ, with a plinth area of 145 Sqm (1560.77sqft).
Amenities
Two allocated parking slots per unit, and Ample visitors parking
Playing area for the children
Borehole with fresh water and solar water heating
Direct connection to sewer line
CCTV and electric fence
Introductory Price
Type 1 - Three (3) Bedroom with SQ - Kes. 10.45 M
Type 2 - Three (3) Bedroom without SQ - Kes. 9.9 M
Invest in The Onyx Place Apartments, where ALL deposits are guaranteed by reputable local Banks.
To invest