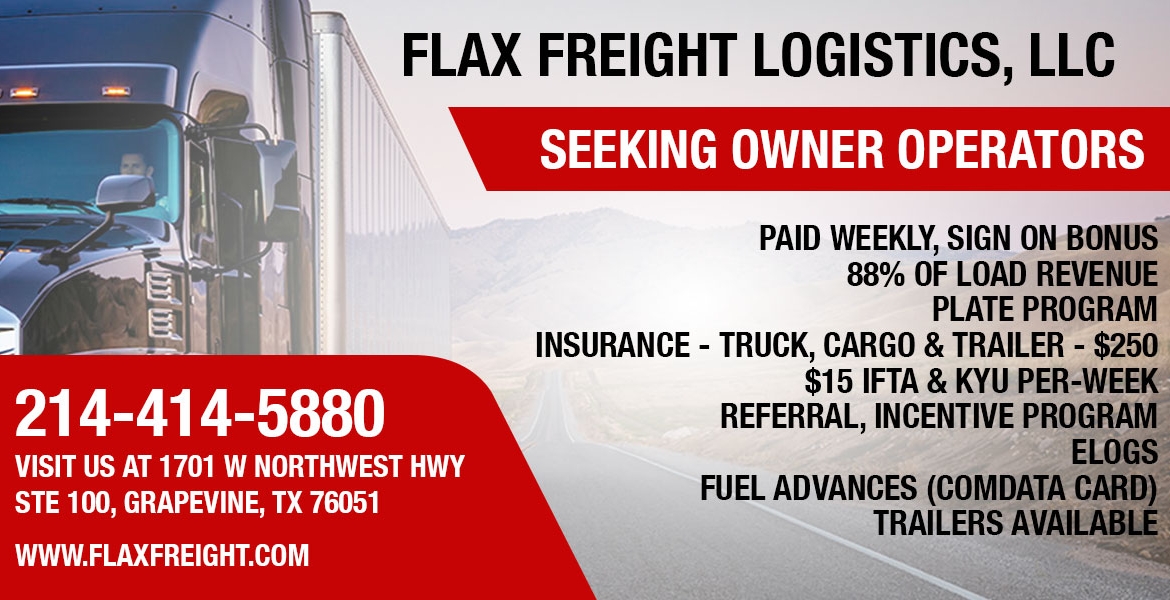 Flax Freight Logistics, LLC is currently seeking owner operators. Contact us today to receive a sign-on bonus.
The owner-operators will be paid weekly.
With Flax Freight, you can grow your business on your own terms. You choose the loads that meet your business needs. You go home when you want and head back out when you're ready, plus with Flax's percentage pay, as rates go up, so do your settlements.
FREEDOM: BE YOUR OWN BOSS
With Flax Freight you are your own boss, you choose what you want to haul, when to haul and when to return home. We won't get in your way.
SECURITY: YOU'LL ALWAYS BE IN DEMAND
There are thousands of loads available every day. There's always something waiting for you.
SUPPORT: WE'LL HELP YOU ALL THE WAY
Flax Freight Logistics is committed to your success. We'll help you get to where you're going - because that helps us get to where we're going.
Paid weekly
Sign-on bonus
88% of load revenue
Plate program
Insurance – Truck, cargo & trailer: $250
$15 IFTA & KYU per week
Referral incentive program
Fuel advances
Trailer available
Contact Us:
Call us today for more details at 214-524-3481.
Visit our website at www.flaxfreight.com.
Visit our office: 1701 W. Northwest Hwy, Suite 100, Grapevine, TX 76051