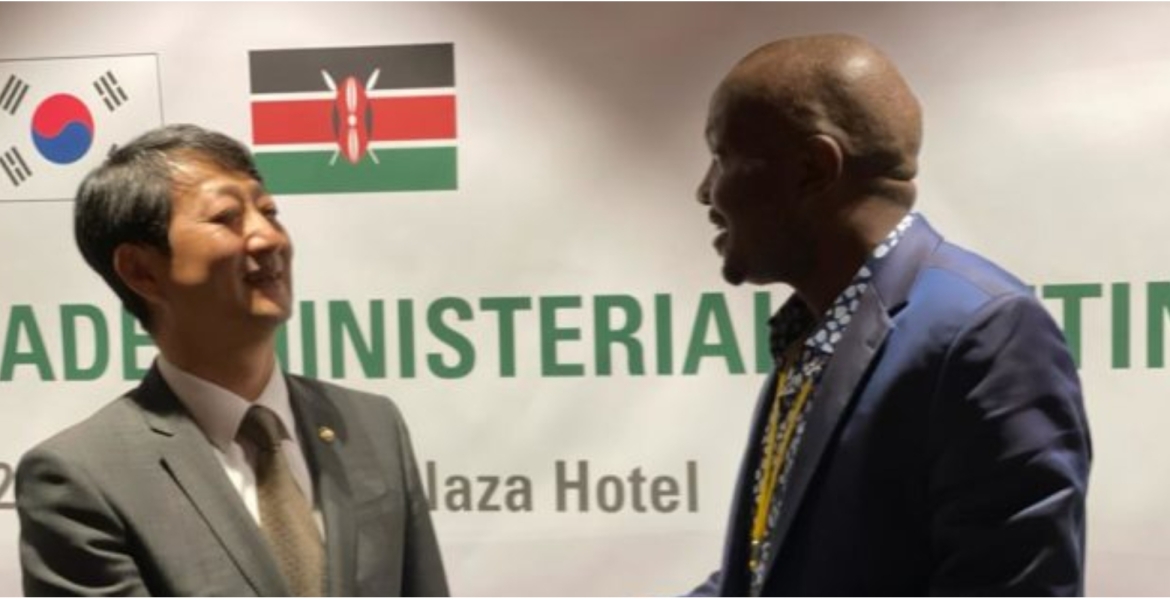 Kenya and South Korea have agreed on a roadmap that will lead to a free trade agreement (FTA) between the two countries.
This followed bilateral talks between South Korean Trade minister Dukgeun Ahn and Kenya's Trade Cabinet Secretary Moses Kuria where the two agreed to enter into negotiations for a free trade agreement with immediate effect.
As the negotiations continue, the two ministers agreed to conclude a Trade and Investment Promotion Framework to address the challenges that hinder smooth flow of trade, especially on Kenyan products such as coffee, tea, avocados and avocado products, cut flowers, nuts and fresh vegetables.
The framework, to be signed by January 31st, 2023, is expected to address the trade imbalance that hugely favors South Korea whose exports to Kenya stands at $500 million compared to Kenya's exports to South Korea at $25 million.
To improve trade logistics between the two countries, Kuria and Ahn also agreed to work together to establish a framework of cooperation between the Kenya Exports Promotion and Branding Agency (KEPROBA) and the Korean Trade Agency (KOTRA). This will involve technical support, opening of a Kenya International Trade Agency (KITA) office in Seoul and establishment of Kenyan warehouses for selling products in Seoul and Busan.
At the same time, Kenya and South Korea agreed on joint investments in the Kenyan Special Economic Zones at the Konza Technopolis, Dongo Kundu, Naivasha, Sagana and the Nairobi International Financial Centre.
The talks between the two trade ministers was a follow up of the earlier summit between President Ruto and his hos President Yoon Suk-Yool in Seoul on Wednesday.