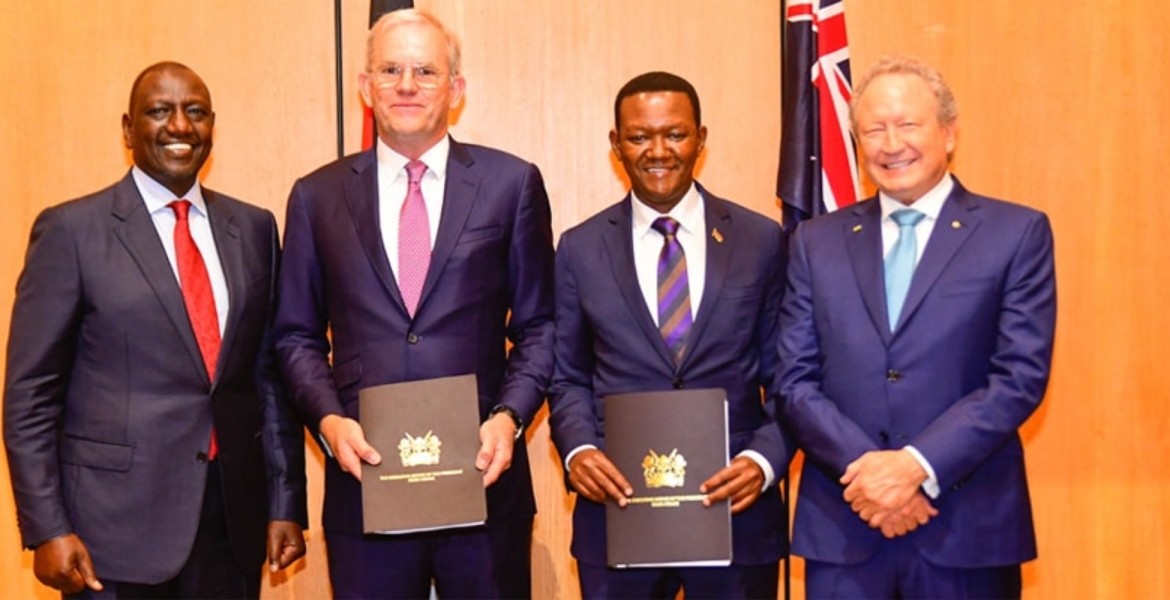 Kenya has signed a deal with an Australian-based multinational to set up a 300MW capacity green ammonia and green fertilizer plant in the country by 2025.
The agreement with Fortescue Future Industries (FFI), which has developed a portfolio in renewable energy and green hydrogen projects, was inked on the sidelines of the COP27 Summit in Sharm El-Sheikh, Egypt, on Monday.
President Ruto, who witnessed the signing of the agreement, said the move will not only enhance food production but also help Kenya's transition to green energy.
"We are committed to Kenya being a leader of renewable energy in Africa, we look forward to partnering with FFI to accelerate the global energy transition for the benefit of the continent," said Ruto.
 "Today marks the beginning of what we all believe will be a long and fruitful partnership between Kenya and FFI. This agreement will help to achieve that and help to support further economic and infrastructure development in Kenya."
"The shift will help reduce our reliance on imports, check the high cost of fertilizer and boost food production," he added.
In a press release, FFI said Monday's deal will be followed by the development of two other projects that would scale up renewable electricity generation for green industries by up to 25GW, to produce up to 1.7 million tonnes of green hydrogen per year for export.
The company added that the agreement will entrench its commitment to fast-track significant investment to develop green industrial facilities in Naivasha, Mombasa and Lamu, creating thousands of new jobs and delivering significant manufacturing and industrial development to Kenya.
"Current ammonia and fertiliser production relies almost exclusively on fossil fuels and results in considerable CO2 emissions. By stepping away from fossil fuels to use green ammonia, Kenya can eliminate its reliance on imports, reduce the cost of fertilizer and increase its food and economic security," Fortescue Executive Chairman and Founder Dr. Andrew Forrest said.