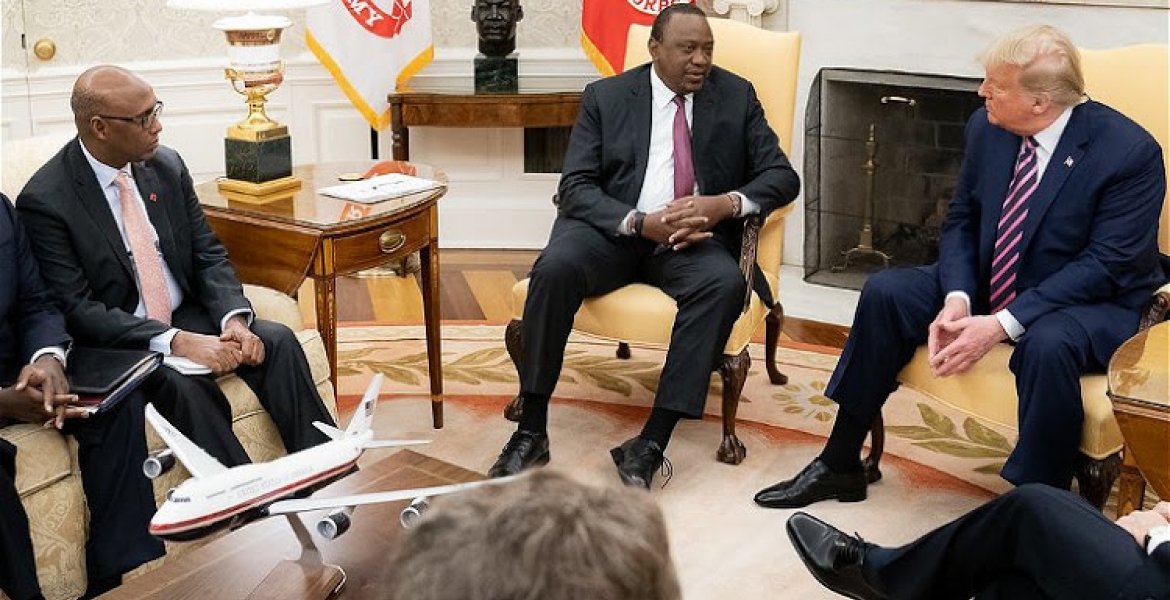 President Kenyatta on Thursday held a meeting with US President Trump at the White House in Washington, DC.
During the meeting, the two leaders agreed to initiate negotiations on a free trade agreement between Kenya and the US, America's first such deal with a sub-Saharan nation.
"Kenya is a recognized leader across the continent, an important strategic partner of the United States, and there is enormous potential for us to deepen our economic and commercial ties," said the US Trade Representative Robert Lighthizer. 
"Under President Trump's leadership, we look forward to negotiating and concluding a comprehensive, high-standard agreement with Kenya that can serve as a model for additional agreements across Africa."
Trump and Kenyatta acknowledged that a new trade pact would help increase trade and investment volumes between Kenya and the US. Currently, trade between Kenya and the US stands at about $1 billion a year with more than 70 percent of Kenya's export into the American market in 2018, worth $466 million, entering under AGOA.
"Today I want to assure all of you of Kenya's unwavering commitment in developing the strongest ever trade investment framework with the United States of America."
"We are very keenly looking forward to concluding the trade arrangement between our two countries and I believe that these trade agreements would not only serve Kenya and United States but would probably set the base for a new engagement between the United States and other African countries," Kenyatta said on Thursday.
During their first meeting at the White House in August 2018, Kenyatta and Trump established the United States-Kenya Bilateral Strategic Dialogue.
Trump has shown less interest in African countries since he came into office. Under his administration, the US has had free trade pacts with 20 countries, but none in Africa.
Uhuru was accompanied to the White House meeting by Cabinet Secretaries James Macharia (Transport), Adan Mohammed (East African Affairs) and CS designate for Trade Betty Maina, among other senior government officials.