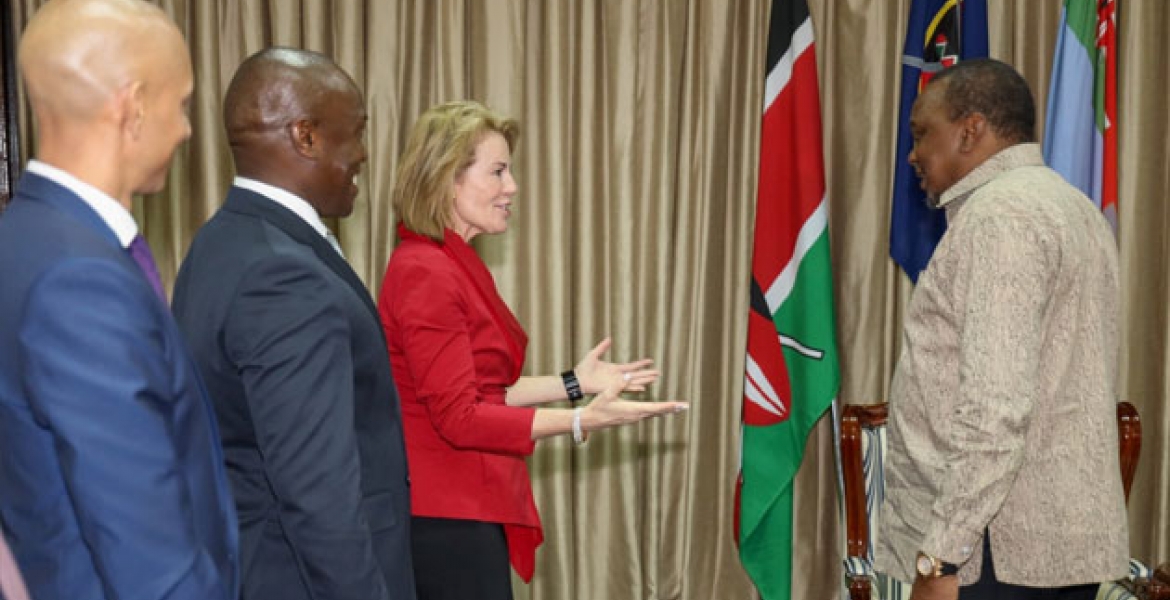 President Kenyatta on Friday held a meeting with visiting executives of Amazon Web Services (AWS) at State House, Nairobi.
AWS is an enterprise of the United States e-commerce giant, Amazon that offers cloud computing services. 
Kenyatta's meeting with AWS executives led by Vice President Teresa Carlson was a follow up to a discussion he had with the group during his official visit to Washington in August last year.
The meeting came hours after President Uhuru signed into law the Data Protection Bill 2019 which was presented to him by National Assembly Speaker Justin Muturi. 
During Friday's meeting, Carlson applauded Kenya for passing the new data law and revealed Amazon's plans to set up an "edge location" in Nairobi. An edge location is where end-users access services located on Amazon Web Services.
Ms. Carlson said the new data law paves the way for the organization's investment that will enable Nairobi to join other global cities as an edge location.
Kenyatta welcomed the move saying Kenya has the necessary infrastructure and educated young population that will benefit from the business opportunities and jobs that will be created.
"I am delighted to welcome AWS's investment in Kenya. The launch of Amazon CloudFront will put us at the forefront of accelerated innovation – enabling startups, enterprises, and our government agencies to focus on building the best user experience," said Kenyatta.
"Kenya is an innovator in digital financial services in Africa. Having advanced cloud infrastructure in the country will support our ability to flourish as a nation and reach our potential as one of Africa's fastest-growing digital economies."
Uhuru indicated that Amazon's investment will help strengthen Kenya's position as a regional business hub.
"This is key for us especially now that we are going digital on almost everything. We are currently building the digital infrastructure and we welcome any support that we can get from you," he told the Amazon team.
Carlson said Amazon will also provide training in digital skills and help in the creation of quality jobs for Kenyan youth.