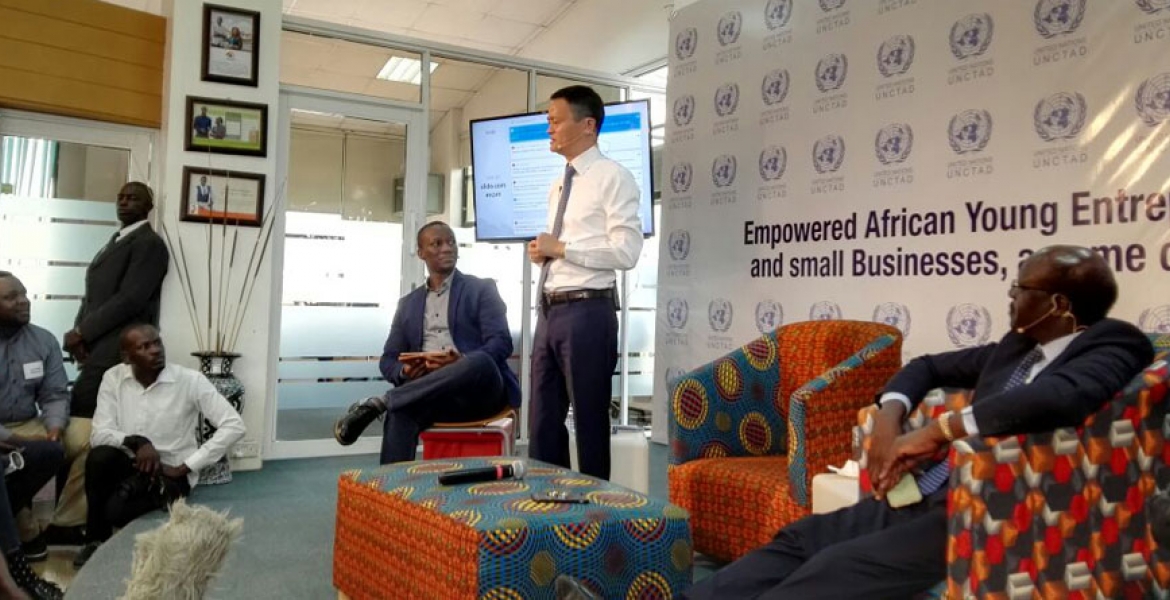 Chinese billionaire Jack Ma speaking during a special session with young entrepreneurs at the University of Nairobi on Thursday
Asia's richest man Jack Ma, who is on a two-day visit to the country, has promised to market Kenya in his tours around the world, saying that Kenya has massive but largely unexploited potential.
"Will I be the ambassador of African industry and bring more Chinese manufacturing companies here? This is my honor. I will be happy to do that," said Ma, the executive chairman of the Chinese e-commerce giant Alibaba Group.
"Introducing Africa to the rest of the world, instead of just introducing Chinese products to Africa, is something I want to do."
Speaking during a special session with young entrepreneurs at the University of Nairobi on Thursday, the Chinese business magnate said the numerous problems facing Africa and Kenya opens up several business opportunities.
"It is a good thing that Kenyans see opportunities and the need to change, which is exactly what I saw in China 20 to 30 years ago," he said.
The business mogul poured praises on Kenya's Information and Communication Technology infrastructure and called on the youth to exploit it in their quest to startup their ventures.
"I am shocked at the speed of the Internet and I have met very many young people with innovative ideas that could change the world," he said.
He said that his firm will source for partnerships from Kenya and maintained on ventures that create value in people's lives will thrive.
"We are looking for more partners. This is our vision. We are extremely interested in logistics solutions and those companies that support payments," said Ma.
The former teacher-turned-businessman said that the internet was the future, urging Kenyan entrepreneurs to adopt the internet in solving their problems.
"The next 30 years are very crucial especially for those under 30 years as they are the ones who are never scared of trying out new things," he said.
He pledged to vouch for China to be Kenya's strategic partner in areas like trade and tourism, citing China's large population.
"Imagine 130 million people traveling within China. What would happen if a fraction came here?" he posed.